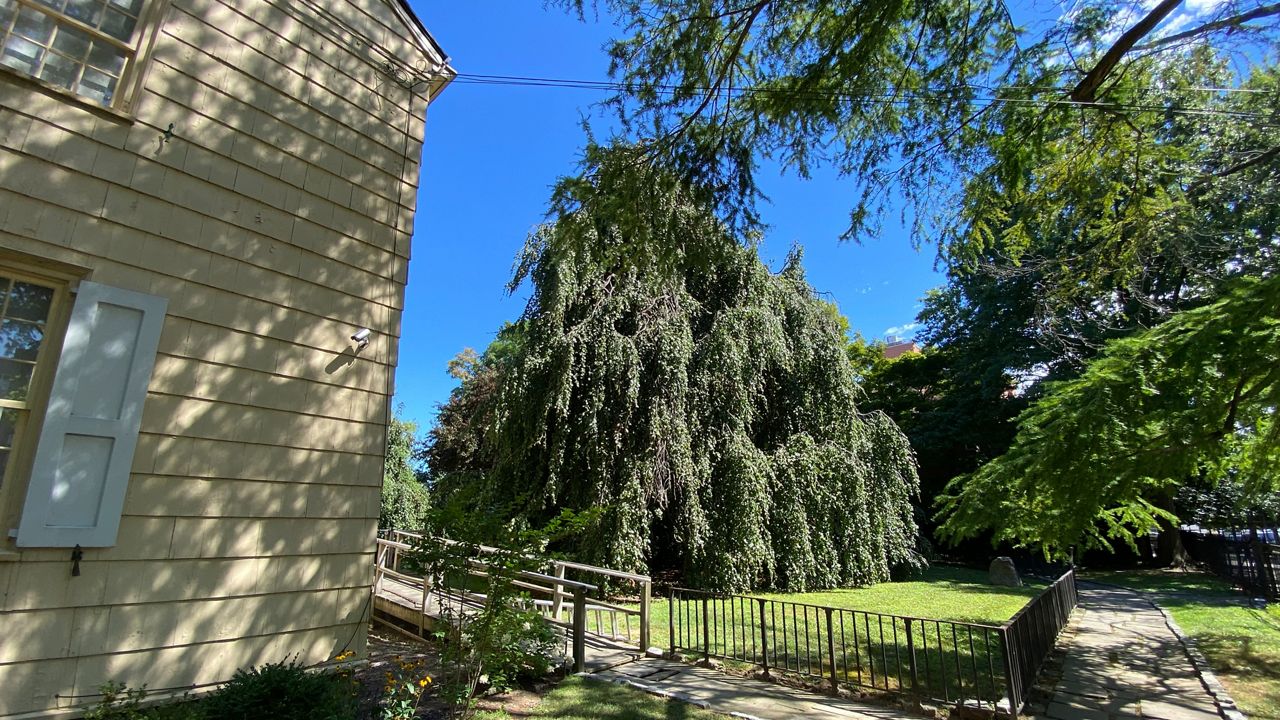 A huge weeping beech tree grows in Flushing
This is perhaps the most shady spot in Flushing.
A massive weeping beech tree is located in the 37th Avenue park bearing his name.
---
What do you want to know
The Queens Historical Society was founded in 1968
Its headquarters are in Kingsland Homestead, a late 18th century house in Flushing
The house is located in Weeping Beech Park, where a historic tree planted in 1847 stood until its death in 1998.
A cross section of the tree was taken and then replanted in the same spot, where a new tree now stands
---
The tree is part of the legacy of another weeping beech that lived in Flushing for over 150 years, brought to the area in the 1840s from Belgium through the efforts of horticulturist Samuel Bowne Parsons – Parsons Boulevard bears his name. The original tree, the city's first living landmark, grew to 60 feet in height, but died in 1998.
"A cross-section of the tree was taken and then replanted here, and here we have the new version, the rebirth," said Jason Antos, executive director of the Queen's Historical Society.
The tree isn't the only piece of history on the property. The property is located behind Kingsland Homestead, a British colonial-era farmhouse built between 1774 and 1785. It was home to the King and Murray families – the Murray Hill sections of Manhattan and Queens are named after the Murrays. The house was moved to the park in 1968 from its original location on what is now 155th Street and North Boulevard.
"It was a dollar deal between the Committee to Save Kingsland Homestead and the City of New York. The house was cut into three pieces and moved to a plateau on Northern Boulevard in 1968, and reassembled here in Weeping Beech Park" , said Antos. .
The house is now a museum and is the headquarters of the Queens Historical Society, which was established in 1968.