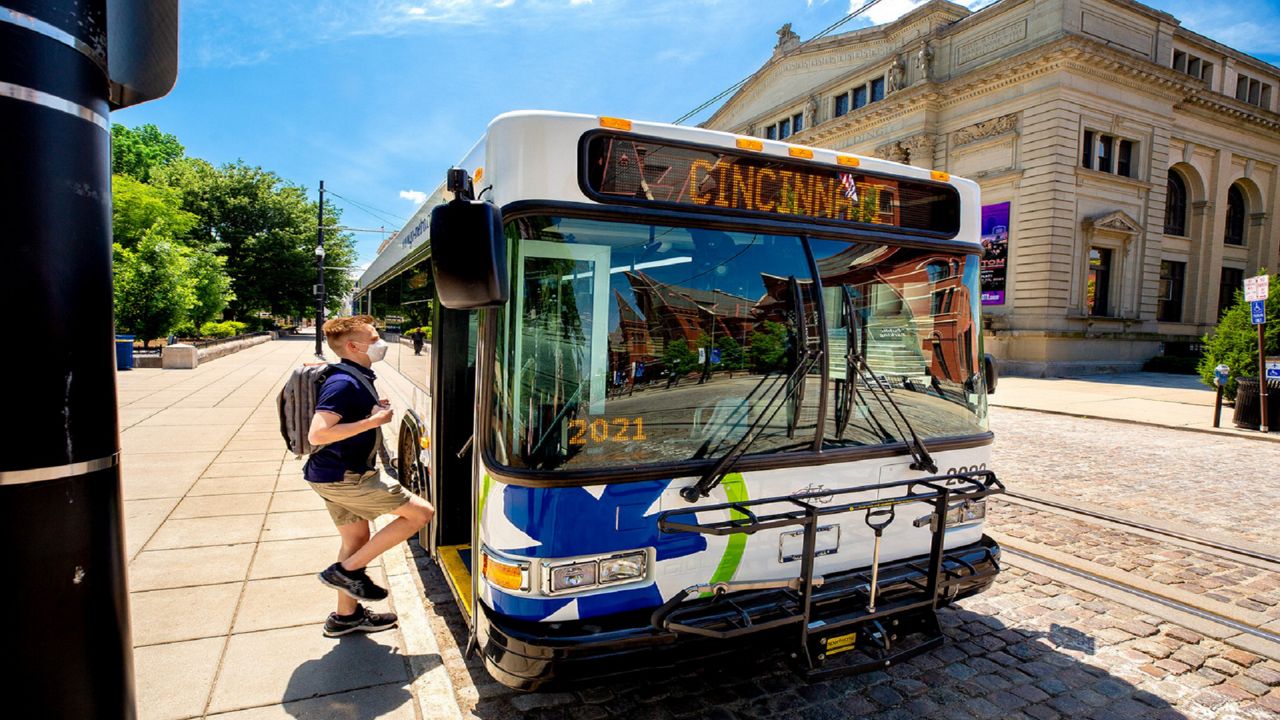 Cincinnati Metro to hold job fair to find bus drivers
CINCINNATI — Metro will host a job fair this weekend in hopes of hiring dozens of new bus operators. The hiring goal is to enable the transit agency to move forward with plans to expand and improve bus service in the greater Cincinnati area.
---
What do you want to know
Metro will host a job fair this weekend as part of an ongoing effort to attract new drivers
Transit agency needs about 50-75 new drivers to help expand services and implement its Reinvent the Subway plan
Staffing issues have affected bus systems across the country
The hiring event will take place on Saturday at 1401 Bank Street.
---
The hiring event will take place on Saturday, May 14 at Metro's Queensgate division (1401 Bank Street). It will take place from 10 a.m. to 1 p.m.
Those planning to attend do not have to RSVP. But for those considering applying, submit your application online before the event, if possible.
Metro has struggled to retain and recruit staff, especially bus drivers, during the COVID-19 pandemic. This is a problem that affects transportation companies across the country.
The agency needs additional drivers to cover existing routes and expand its service. Metro has about 475 drivers on its payroll, but it wants to add 100 to 150 more by the end of the year.
They have held several job fairs over the past few months, the most recent being on March 17. They also ran an aggressive campaign on social media.
Driver shortages have at least played a role in service changes in recent months – some more minor, others more drastic, such as those in December which affected 22 routes. These adjustments included a mixture of route consolidations and schedule adjustments as well as the elimination of an express route to Forest Park.
Staffing issues have also limited Metro's ability to implement aspects of its Reinventing Metro plan, which aims to better connect residents of greater Cincinnati to jobs, school and medical services.
"Due to the nationwide driver shortage, we have had to make adjustments to our current service in an effort to improve service reliability for our customers," Metro spokesperson Brandy Jones said. , in January. "We've also been very strategic about the timing and service improvements to be implemented based on factors such as staffing levels and ridership patterns and needs."
Troy Miller, president of Amalgamated Transit Union Local 627, which represents Metro employees, said part of the challenge of hiring drivers has to do with finding the "right person" for the post. The unique bus service schedule is a challenge, Miller said. He also mentioned that some applicants were encountering complications during the background check and screening processes.
Part of Metro's selling pitch to would-be drivers is a new contract struck several months ago between the bus drivers' union, ATU, and the Southwest Ohio Regional Transit Authority, which operates Metro.
The contract guarantees "better pay, benefits and stability" than at any time in the agency's history, according to Metro. Drivers start at $21 per hour.
Other benefits include:
Paid training at $19 per hour, which includes Commercial Driver's License (CDL) training and CDL license fee reimbursement.

Opportunities to earn premium pay rates on high demand routes

$2,000 signing bonus upon completion of training and 95-day trial period

Salary increase every six months
Metro also offers comprehensive health and dental benefits, retirement benefits, and discounted transit passes for a spouse and dependents.
For more information, visit go-metro.com/careers or call 513-632-7559.