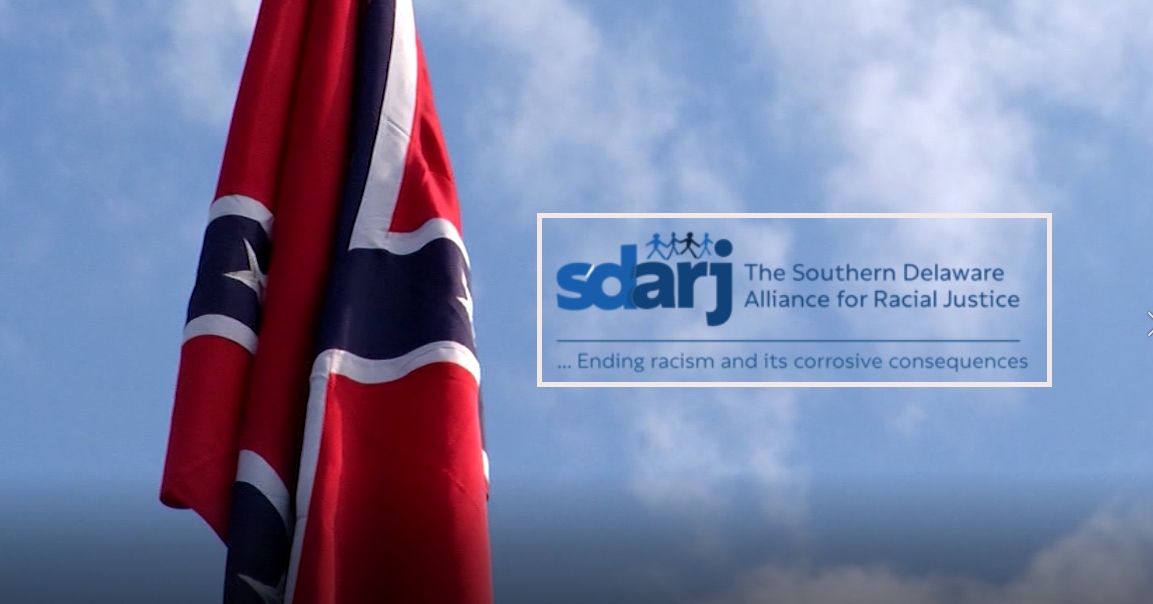 Civil rights group calls for councilwoman to step down in Georgetown amid Confederate flag controversy
GEORGETOWN, Del. – The Confederate flag controversy continues in Georgetown. After Monday night's controversial council meeting, a local civil rights group joins the call for a council member to resign.
The Southern Delaware Alliance for Racial Justice speaks out, calling on Georgetown Councilwoman Sue Barlow to step down after supporting museum funding and voting to approve it despite being a lifetime member of the historical society who runs it.
"There's a conflict of interest, she should have recused herself," alliance committee member Joe Lawson said in an interview with 47 ABC News anchor Rob Petree. "It's their own pet project, and from a potential corruption standpoint, it stinks of hell."
Councilwoman Barlow's latest call for Councilor Barlow's resignation comes just a day after Georgetown Mayor Bill West spoke out and called on Barlow to step down, expressing serious concerns about his health after the controversial meeting Monday night's council.
The sentencing comes after a check for more than $24,000 was given to the Georgetown Historical Society, which owns and operates the Marvel Museum, where a Confederate flag flies on a monument honoring soldiers who fought in the Confederacy during the civil war.
A check that was to be given to the organization was canceled by Georgetown Mayor Bill West after learning that no formal committee process had been established before the vote that approved the funding, which could open the door to a possible trial. Three board members, Angela Townsend, Sue Barlow and Penuel Barrett continued that fundraising, presenting a new check to the historical society earlier this month.
Lawson was quick to call Councilwoman Angela Townsend, who brought the original motion to approve the funding and was a strong supporter of the Confederate flag. In our interview, he said his statements made her look like a racist.
"Everything she said is something a real racist would say," Lawson said. "It's hard for me to imagine that she's not racist based on those statements. She has no empathy for the black community. She's completely obsessed with her opinion of the Confederate flag.
Councilwoman Townsend defended her decision to fund the museum during Monday's council meeting.
"Everyone is offended by something, and a lot of things offend me, but I support it and I'm okay with it, I said how many people are against the Vietnam war, will this memorial go come down next?" said Councilor Townsend. "I'm not black, so I don't know, I don't belong to you, and you know, I didn't do it to be mean, I voted because for me it was the right thing to do for the wonderful museum to make improvements to the property."
Mayor West also called out Councilwoman Townsend, in an interview on Tuesday he told our News Service that her recent remarks have led some people to think she's "very racist."
"Angie has to think before she speaks because a lot of her language leads people to think she's very racist," Mayor West said. "The comments she makes, and her husband has made in public, show they have feelings of white power, and that's not going to happen here in Georgetown, I'm not going to let that happen."
Following the funding approval last month, we spoke with Councilman Angela Townsend, who we asked if the feelings of black residents of Georgetown mattered to her, to which she replied, "Yes, it matters to me," she replied. "I'm not promoting slavery, or what happened in the past, all I do is try to preserve history from repeating itself. not."
Mayor Bill West was highly critical of the museum's funding over the Confederate flag and the process for approving that funding. He called Councilor Barlow directly at the Monday evening meeting, as she would have been on council in 2007 when this motion to form such a committee for this type of funding was passed.
"If we should be mad at anyone, it should be Sue," Mayor West said. "She was a council member when this ordinance was passed."
Councilwoman Barlow responded to Mayor West, citing her age and her assumption that city leaders had read and were aware of the ordinance.
"I just want to defend myself Bill," Councilwoman Barlow said. "This ordinance you are talking about was adopted in 2008 [actually passed in 2007] I was on the council at the time but you know that was a long time ago and I'm 78 so I don't have a very good memory and I assumed that the CEO and the attorney in town had read the ordinance and knew what it was saying.
The ordinance they refer to dates from 2007 and specifically states that with respect to GREAT funding, from which the $24,750 to the Georgetown Historical Society was allocated, the Georgetown City Council shall establish a committee to review such funding before approving it and this committee may then recommend that the funding be put to a vote by the Board. No such committee process was formed prior to the vote to approve funding at the July 25, 2022 board meeting.
Numerous attempts by 47 ABC to reach both Councilor Townsend and Councilor Barlow were ignored.
There have also been serious concerns in the city about the possibility of a lawsuit over the way the funding was approved, a concern expressed by Mayor West at Monday night's meeting.
The Central Delaware NAACP and the Southern Delaware Alliance for Racial Justice said they are exploring potential lawsuits in regards to the city of Georgetown's handling of funding approval. No official litigation has been filed at this time.
Several calls to Georgetown Historical Society President Jim Bowden went unanswered.
This is a developing story and 47 ABC News will post more information as it becomes available.