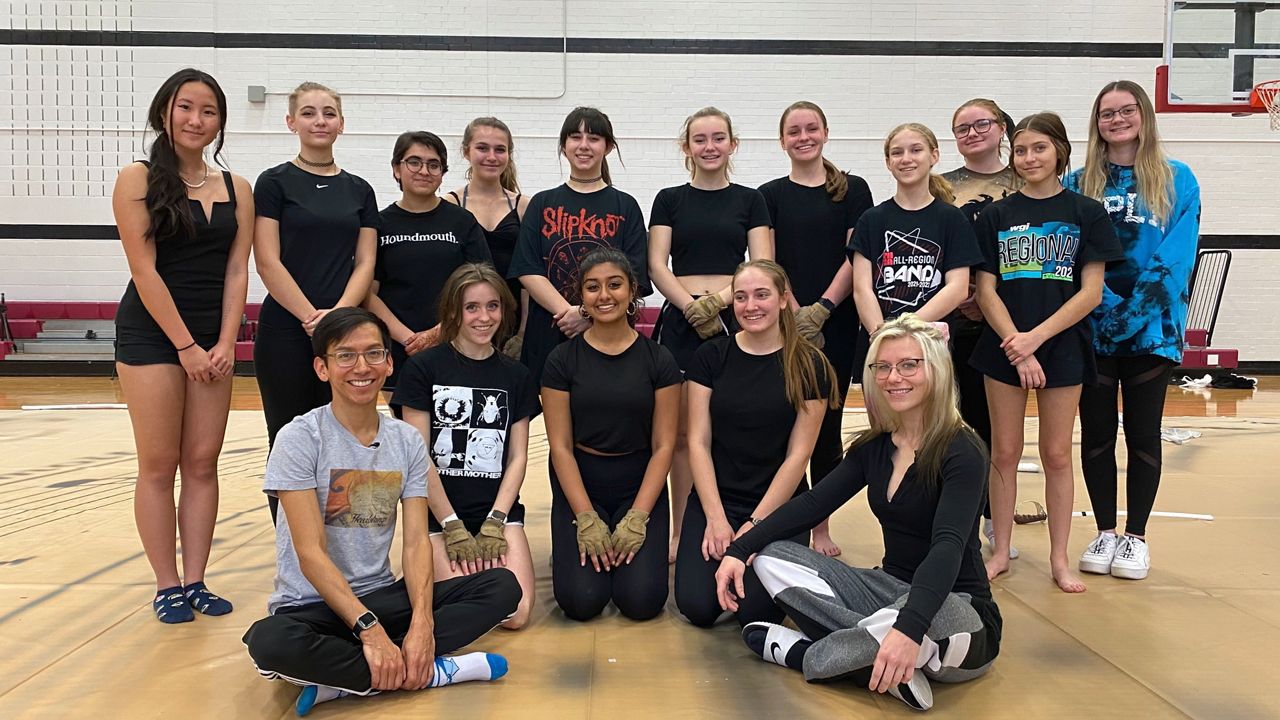 Colleyville Heritage HS Winter Guard
DALLAS — When it comes to the makings of a successful coach, passion tops the list of qualifications.
Colleyville Heritage High School Color Guard Director Dr. Martin Godoy's passion for creating art is evident in the awards his team won during the Winter Guards competition season of This year.
"He's a versatile performer and the perfect person for the job," said his assistant coach Avery Lind.
He's been engulfed in the color guard world since he was a junior in high school. "I fell in love with the aesthetic," Godoy said. "Color guard mixes dance with the handling of flags, guns and sabers. The physical and artistic part is really appealing to me.
He coached the high school color guard "Diamonds" for nearly a decade, but his first love was music.
"I joined a band in college and fell in love with the flute." said Godoy
While in a high school band, his first exposure to the color guard came while attending an international drum core competition.
His passion for music led him to obtain a doctorate in musical arts from the University of North Texas College of Music as a flautist.
In 2018, while studying at UNT, Godoy won first prize in the Texas Flute Society's 32nd Annual Myrna Brown Artist Competition. The annual event held in Denton is widely recognized as one of the top international flute competitions.
As a color guard coach, his passion for music influences the way he synchronizes music and movement.
"He really is an amazing couch," Lind said. "I'm not saying that just because I'm his assistant."
Lind added that Godoy is unique in the way he is very gentle with his students: "I feel like a lot of color guard coaches can be quite abrasive, but he does things with such nuance. . I think you can really see that in the way he gets our dancers to play.
This competition season, "Heartstrings" was the name of the program choreographed by Godoy.
Dancing to Christina Aguilera's 2010 song "You Lost Me", Godoy combines elements from multiple dance genres including modern, jazz, lyrical and classical ballet. The song tells the story of infidelity with emotional lyrics.
For the piece, the group of about ten dancers moves on an image of folded partitions.
Godoy spent the first half of the school year teaching his dancers how to connect mind and body through fluid dance moves.
His concept touched the hearts of the judges when the Diamonds placed first in their first competition of the season in January. Held by the North Texas Colorguard Association (NTCA) at Red Oak High School, the Diamonds faced 11 other teams.
Then, in February, the Diamonds won second place in another NTCA competition held at Lamar High School.
A week later, they placed first in the NTCA Berkner High School competition.
In March, the Diamonds won the title of "Regional Finalist" at the Winter Guard International (WGI) competition held in Dallas.
"WGI is a big deal in the color guard community," Godoy said.
The American Performing Arts Association is the governing body and producer of regional championship events for three activities: color guard, percussion ensembles, and small marching bands.
The first week of April, Godoy and his diamonds hard work paid off when they achieved a 7th place finish at the WGI Championships and 2n/a place in the movement category.
"I'm really proud of that," Godoy said in a Facebook post where he applauded the hard work of his dancers, noting that the Diamonds played against "fantastic teams."
"Shout out to parents, band staff, friends, track crew and family for their support," he added.
When asked what he would like his diamonds to get out of their time in color custody, Godoy became sentimental.
"I hope they find a passion for the show because I miss it," he said. "I remember when I was on the floor, hearing the applause and applause from the audience gave me goosebumps and sometimes tears."
He said it was a joy to watch this young group grow over the season.
Godoy will welcome new students interested in joining the 2022-2023 Diamonds Color Guard to accompany the Colleyville Heritage High School Marching Band for marching season.
The auditions will take place at the high school from April 25 to 27. Godoy is proud of the idea that he sees awards won because many of his students have never danced with flags, guns, or sabers.
If you have an interesting story or an issue you'd like to see covered, let us know.
Share your thoughts with DFW Human Interest Reporter Lupe Zapata by emailing her at [email protected]