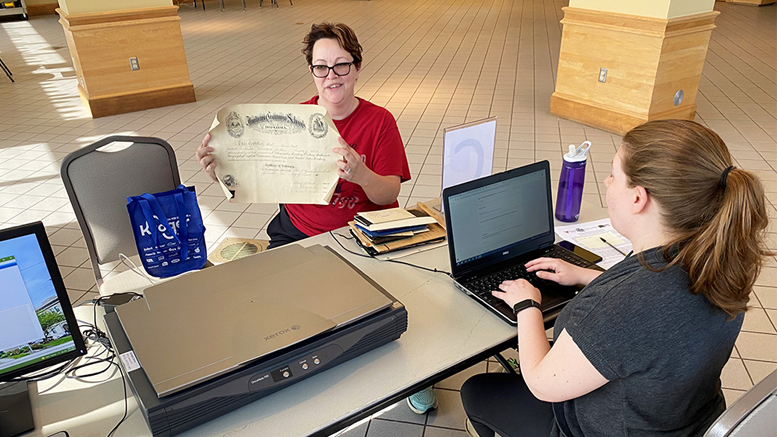 Community analysis day will focus on local women in politics and the military — Muncie Journal
By Susan Fisher, MPL—
MUNCIE, IN—Four local organizations, all interested in discovering and preserving local history, will host a Community Insight Day on Saturday, October 8 from 1-4 p.m. at the Minnetrista Museum & Gardens.
The event is sponsored by Minnetrista, Ball State University Libraries, Delaware County Historical Society and Muncie Public Library. The event will ask participants to focus on documents, photographs, photo negatives and slides that feature local women in politics and the military.
A Digitization Day is an event where residents are invited to share photos and other materials to be digitized digitally for possible inclusion in local digital archives. In return, participants will receive a USB key with their scanned items. This helps families preserve their own history and helps sponsoring organizations discover photographs and documents that tell the story of a community.
According to Sara McKinley, manager of local history and genealogy at the Carnegie Library of the Muncie Public Library, organizations participating in the planned digitization day are considered local memory institutions, which may include archives, museums, historical societies and libraries. "Our local memory institutions are working together at this event to advocate for historic preservation, inform our community of the collections and services available to them, and provide a public service to help save and share our county's hidden histories" , she said.
The first day of the Community Scan took place in May this year. Participants were invited to share local family documents and photographs. At the time, Matthew Shaw, Dean of University Libraries at Ball State, said in a press release, "These items are inaccessible to scholars, and their survival as digital digitizations will ensure the preservation of stories, memories, and unique experiences for residents. and families in Muncie and surrounding communities. According to Karen Vincent, president of the Delaware County Historical Society, the initial event was a success. "Our first event welcomed 14 participants. We not only provided attendees with digital copies of their materials, but we also linked attendees to their local archives," she said.
Sarah Allison, manager of archival user engagement at Ball State University Libraries, hopes the theme for the upcoming Community Scan Day, which will focus on local women in politics and in the army, will help attract new attendees to the event and help discover previously unknown people and their stories, "Our hope is not only to help individuals preserve their hidden treasures, but also to share digital copies through our institutions' online repositories to help document and share the history of local women," she said.
Susan Smith, archivist at Minnetrista, also views community digitization events as an opportunity to answer questions and provide advice on how to preserve not just physical records, but digital files as well. "For those who may not be tech-savvy or don't have the equipment themselves, this is a chance to digitize their documents and make them available to share with family and public researchers" , she said.
Community members are encouraged to participate. Pre-registration is required. Individuals are limited to 20 items to scan, items must have a local connection (Delaware County) and must relate to the theme of the event. All participants will receive a free USB stick with their digital scans.
For more information, individuals can follow this link: https://forms.gle/Y8pEGKzJA8Kc3n4w5 or call (765) 741-5159. Additional information can also be found on the websites of participating organizations, including the Muncie Public Library website at www.munciepubliclibrary.org