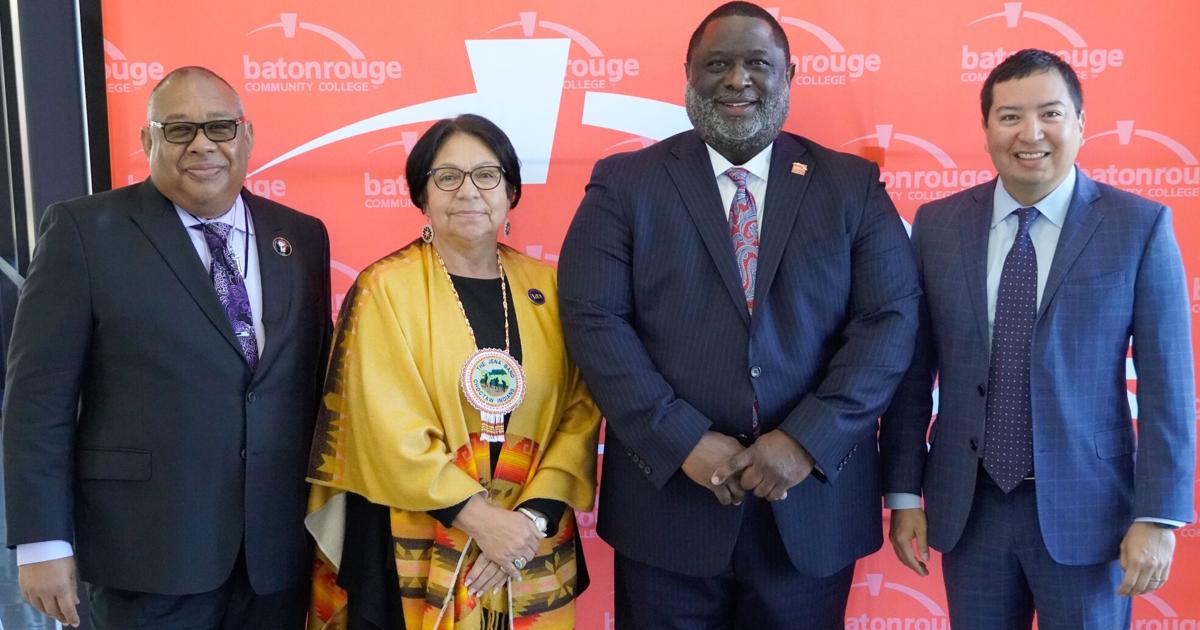 Community: BRCC recognizes Native American Heritage Month with breakfast and panel discussion | Entertainment / Life
Baton Rouge Community College hosted a Diversity Breakfast and Roundtable on November 19 in recognition of Native American Heritage Month.
The month is designated to provide education about Native American tribes, to raise awareness of the unique challenges that Indigenous peoples have faced historically and in the present, and to highlight the ways in which tribal citizens have worked to overcome these challenges.
The purpose of this event was to recognize Louisiana's distinctive representation of Native American tribes and to celebrate their unique heritage and contributions to the state. The dialogue focused on history, educational equity, leadership empowerment, entrepreneurial advancement and future economic opportunities for intentional inclusion.
Panelists included marshal piérite, President / CEO of the Tunica-Biloxi Tribe of Louisiana; David Sickey, CEO of Sickey Global Strategies and former president of the Coushatta tribe of Louisiana; and B. Cheryl Smith, Chief of the Choctaw Jena Band.
Exchange Club adopts 18 teachers
The Baton Rouge Exchange Club presented its 25th annual Adopt-a-Teacher program at the November 18 meeting of the East Baton Rouge Parish School Board.
Eighteen new elementary school teachers received grants to help them purchase starter materials for their classes. All grants were in the form of gift cards to School Aids.
Teachers and their schools were Phyllis Allison, Bria Coleman and Kurt whitman, Wedgewood; Lori Blair, Greenbrier; Brandi chapman, Crestworth; Jessica Cheatham, Christina Dalmau, Megan N. Juneau and Allison schwartz, Woodlawn; Karley doyle and Kaylor goodyear, Magnolia wood; Rachel Duo, Shenandoah; Jessica jones george, Glen Oaks Park; Joanie Lemelle and Lori Porter, Buchanan; Nancy Roseau, Melrose; Chanikarn Wanmalikphan, Audubon; and Nadia whitfield, University terrace.
Doyle was adopted by the Baton Rouge Area Society of Psychologists. Other major partners included School Aids, Neighbors Federal Credit Union, Capital One Bank, Louisiana Lottery Corporation, Parker's Pharmacy, Giraphic Prints, Louisiana Companies, East Baton Rouge Lions Club, Lillian and John Grossley, Dr Richard Flicker, Dr Darlyne Nemeth, Joy and Bruce Hammatt, Dr Christine Angelloz, Dr Claire Advokat, Nadine and Scott Couper, and Connie bernard.
Including this year, 611 teachers have received grants under the Adopt-A-Teacher program since 1997, reaching over 100,000 students. For more information on joining the Exchange Club and / or how to contribute to the 26th Annual Adopt-A-Teacher in 2022, contact Richard Flicker, (225) 931-1626, or flicker @ premier .net.
Red Magnolia Theater celebrates season plans
The Red Magnolia Theater Company celebrated a long-awaited "in person" season on November 6 at Hayride Scandal.
Co-owner Hayride Lance enclosure greeted guests. Red Magnolia Board Members Morgan Almeida, Teresa Alvarez, Jennifer Ellis and Courtney murphy shared details of the organization's 2021-2022 plans with volunteers Leonard Augustus, Rick and Marcia LaCompte, Elizabeth Mathews, C. Jaye Miller, Rob Almeida and guests Tony and Sichin McCall, Craig and Cynthia Toups, Jill Angelle, Eric Fulcher, Su King and Charlie Demas, Leslie Green, Meg Walker and Brian and Monica Murphy.
Red Magnolia, which is dedicated to empowering women to participate in all aspects of the theatrical arts, has announced the following events: a portfolio of creative photos for its 225Gives campaign, staged readings from "Most Massive Woman Wins" and "Interlocus" (premiere) and a main production, "Les Révolutionnaires", in June 2022.
After a champagne toast in the coming season, guests enjoyed the music of the Bishop Ellis Trio.