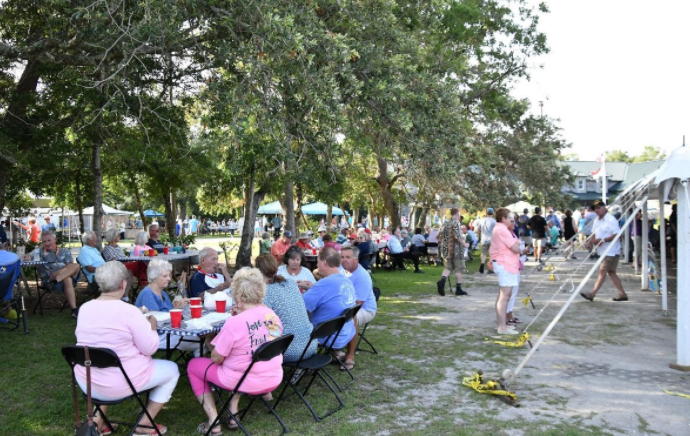 Core Sound Waterfowl Museum and Heritage Center Honors Veterans and Frontline Workers | Entertainment
[ad_1]
HARKERS ISLAND – "Celebrating the heroes of our community†was this year's theme for the annual All-American Shrimp Fry which took place July 10 at the Core Sound Waterfowl Museum and Heritage Center on Harkers Island.
More than 600 active and retired military veterans, as well as frontline workers, including teachers, healthcare workers and first responders, were the winners as residents and companies funded free meals from fried shrimp for all who qualified. In the past, the event was held on the weekend of July 4, but this year the schedule has been changed to accommodate a larger and more diverse crowd than usual.
In addition to recognizing 600 laureates who signed up for the afternoon case, the event was also dedicated to those who have died from the COVID-19 pandemic with special service to them and their families. .
A special ensemble from the Second Marine Aircraft Wing Band, MCAS Cherry Point, provided music during the late afternoon activities and during dinner.
Noticing the event, Karen Amspacher, Executive Director of the Heritage Center, was delighted with the afternoon's event under sunny skies with a refreshing breeze from Back Sound.
"We had active military personnel, even from out of state, visiting family here. Teachers from Wake County, nurses from Greenville, health workers from Onslow County, as well as inland firefighters were here, â€she said.
The event included exhibits by a variety of vendors. The free meals for military veterans and frontline workers were funded by more than 127 individuals and businesses supporting the one-day event.
Ms Amspacher expressed her appreciation for the supporters, volunteers and staff who worked much of the week cleaning up over 450 pounds of shrimp and helping set up the facilities.
For Ms. Amspacher, the event was also a sort of grand opening of the Core Sound Museum & Heritage Center, located "at the end of the road†on Harkers Island. For her and staff, the weekend's event was the first public event held on the ground since the governor's release of COVID-19 restrictions.
[ad_2]