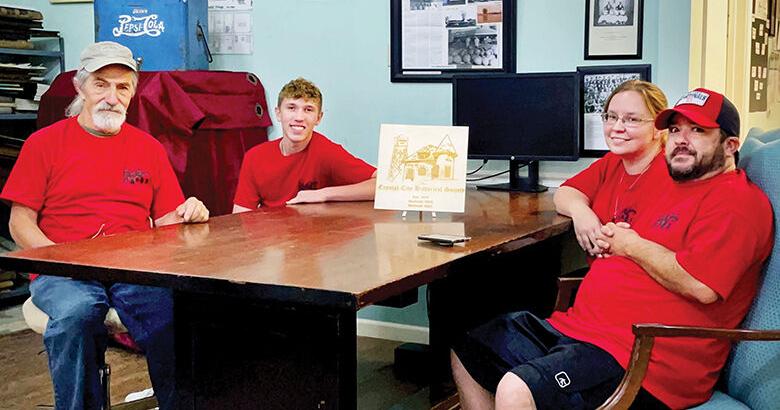 Crystal City teenager helps revive historical society, museum | Local News
The Crystal City Historical Society, which had been dormant for several months, has come back to life and reopened its museum, thanks in part to teenage Clayton Loughary's recent interest in the group.
Loughary, a 16-year-old student at St. Pius X High School, took a US history course last year for college credit and was assigned to investigate the significance of a historic site in Missouri and create a 10-minute documentary about his findings. . He decided to focus on the history of glass making in Crystal City.
He said he started his research by joining the Crystal City Works Nine Facebook group and asked for advice on where to start. Group members recommended he contact the Jefferson County Heritage and Historical Society, and JCHH members encouraged him to take a look at their collection of Glass Rays journals, which were written by employees of Pittsburgh Plate Glass Co. and published from 1937 to 1940.
Loughary, who lives in Crystal City, said these diaries vividly described the lives of people who lived in her hometown during that time, providing accounts of everything from the vacations they took to the illnesses of their dogs. .
"It was like Crystal City's first Facebook," he said.
Loughary said Glass Rays was instrumental in helping him connect the dots from American Plate Glass Co. to Crystal Plate Glass Co. to PPG.
Between the information Loughary got from JCHH and his many trips to the Festus and Crystal City libraries, it wasn't long before he had enough information to create a 32-minute film, rather than the minimum documentary. of 10 minutes assigned to him. .
Loughary teacher Melissa Wenker said he was the only student in the class to go so far beyond the assignment requirements.
"Clayton has a lot of personal drive. He was one of the first students to come to me with the idea for his project topic, and he really enjoyed the process," she said. "Through researching his subject, interviewing people locally or associated with PPG, and making the documentary, he constantly kept me up to date on what he was discovering or his ideas for the documentary."
Loughary, an Eagle Scout who plans to study aerospace engineering, said his documentary, titled A Pane into History, can be viewed for free on YouTube at sites.google.com/view/glassplantwiki/home.
Reopening of the museum
After Loughary completed his documentary in the fall of 2021, the JCHH encouraged him to contact Crystal City officials to get involved with the Crystal City Historical Society, which had all but disbanded the previous June when the few remaining members informed the city that they could no longer run the museum and hand over the keys to the city.
When Loughary contacted the city, he was told that two other residents — Jack Ginnever and Jessica Hamlin — were interested in reopening the museum, located at 126 Mississippi Ave. next to Crystal City Hall.
Ginnever, the CCHS treasurer, said he and Hamlin were initially skeptical of Loughary's involvement due to his young age.
"Just the fact that he's 16, I don't think people took him very seriously," Ginnever said. "I think it was this documentary that kind of opened everyone's eyes to the fact that he really did a lot of research and knows quite a bit even though he's only 16. year."
Ginnever, Hamlin and Loughary decided they wanted to open the society's museum to the public on a monthly basis and make it accessible to the public through their website. Previously, the museum was not regularly open to the public and did not have a website.
To start the process, Loughary said he and the other members had inventoried all the artifacts in the museum. They took a photo of each item and cataloged them with unique numbers.
Loughary said many items no longer had tags, which sometimes made identification difficult, so members of the society are asking for help in identifying people in a number of photos on display in the museum.
What's on display?
Loughary, the museum's chief docent, said he was working to revamp the museum's space to make it more open and create more space for exhibits.
One of the exhibits the members have been working on is called "All Our Yesterdays," which will change monthly and feature different local artifacts, depending on that month's theme. Some of their recent themes have been Black History Month, Women's History Month, and Graduation.
Like the Loughary documentary, much of the museum features information about the history of glassmaking in Crystal City.
Loughary said PPG's impact on Crystal City can still be seen today in the way the community holds together.
"At PPG, if you were laid off, they tried to reassign you so that you were not unemployed. They let as few people as possible go," Loughary said. "There was a theme of closeness and connection. And that was the main theme of my documentary: connection.
Ginnever, who was previously involved with the CCHS from 2010, said he spent a lot of time on digital archiving – scanning photos and collecting audio and video interviews. He said he used many artifacts collected by the late Joe Pusateri, who was a local historian and CCHS member, including audio interviews and videos he took.
Ginnever said he has enough information digitally archived to begin posting it to the website for public view in the coming months.
He said a few of the artifacts might surprise local residents, such as information about the old racetrack and fairgrounds that were located in what is now a residential area north of Second Street near Mississippi Avenue.
Hamlin, the president of CCHS, said she became interested in the organization after she and her mother saw the Old City Cemetery and wanted to get more information about the people buried there.
Hamlin also said she wanted to draw attention to history before the PPG era, such as the Native Americans who once lived there, the French fur trappers who once worked there, and African-American history.
She said CCHS doesn't have a lot of information on any of these topics and any information, photos or artifacts that shed light on these topics would be welcome at the museum, whether donated or loaned.
"Crystal is such a cute town and its history is so cute that I think it's worth saving and trying to spread the word about," she said.
How to get involved
Loughary and Hamlin are trying to interest and involve more people in the historical society and community. They hope to increase the number of visitors to the museum, which is open to the public from noon to 4 p.m. on the first Sunday of each month.
Society members also hope to see more people attend the group's monthly meetings, which take place at 6 p.m. on the first Tuesday of each month at the museum.