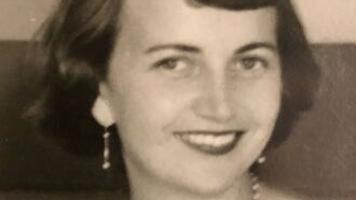 Dehlia Baffert | Death notice | tucson.com
After Pierre passed away in 1982, Dehlia relished the role of matriarch of the family. She supervised the swimming lessons given in her garden by her daughters. Literally hundreds of children learned to swim there over a twenty year period. As her children had families of their own, her grandchildren became her greatest joy. The grandchildren all agree that there was no place like Nini's house. Her sleepovers were epic, and Sunday's hot butterscotch dinners won't be forgotten. Always mischievous, especially with her grandchildren, she had a great sense of humor that came out on Facetime or Instagram calls. In the late 90s, she used new technology to communicate with her vast herd of grandchildren and great-grandchildren. Everyone was special to her.
Dehlia was predeceased by her beloved parents, husband and sisters, Olga Hoeffer Anderson and Rebecca Holler. She is survived by her children, Pierre S. Baffert Jr. (Linda), Teri Baffert (Hank Matz), Renee Guevara (Alfredo), Cynthia Dyer (Greg) and Melissa Baffert (George Ellis). She is also survived by twelve grandchildren and six great grandchildren. A funeral mass will be held on Monday August 23, 2021 at 10:00 a.m. at the Paroisse Sacré-Cœur. In lieu of flowers, the family suggests that contributions be made to the Sacred Heart Parish in Nogales, Arizona, or the Pimeria Alta Historical Society. Arrangements by the MARTINEZ FUNERAL CHAPELS.
Sign up to receive the most recent local obituaries delivered to your inbox.