Each plaque on the Rancho Bernardo Pathway of Pride has a unique story
New plaques unveiled along the Trail of Pride honor lost loved ones, celebrate an anniversary or recognize years of community service.
The Rancho Bernardo Community Foundation held a ceremony in Webb Park on June 1 for those honored with a 2021 plaque. Each represents a $1,500 contribution to support RB's endowment and community grant program.
The plaques have been installed every year since the trail's inception in 1993. The 12 new plaques bring the total to 372.
Kathy Lunardi said the plaque bearing the names of her husband, Dan, herself and their three children was a Christmas and 77th birthday present from her husband. (His birthday is two days after Christmas.)
They were joined at the ceremony by their son, Tim, and granddaughter, Sophia Lunardi.
"It was something to honor that we had three generations here," said Kathy Lunardi. "It's a beautiful region where life is good and which has developed a lot. One of the best decisions we made was to move here in 1976."
The plaque is engraved with the message "Dan & Kathy Lunardi – members of the RB community since 1976 – Tony, Tim & Julie have thrived in this beautiful community."
Dan Lunardi was happy with his gift.
"It's good that it's happening because we've lived here so long," he said.
The couple noticed the plaques when they attended the 2021 Memorial Day ceremony in the park and realized they knew a lot of people who had one. Kathy Lunardi said that's what got her thinking about buying one.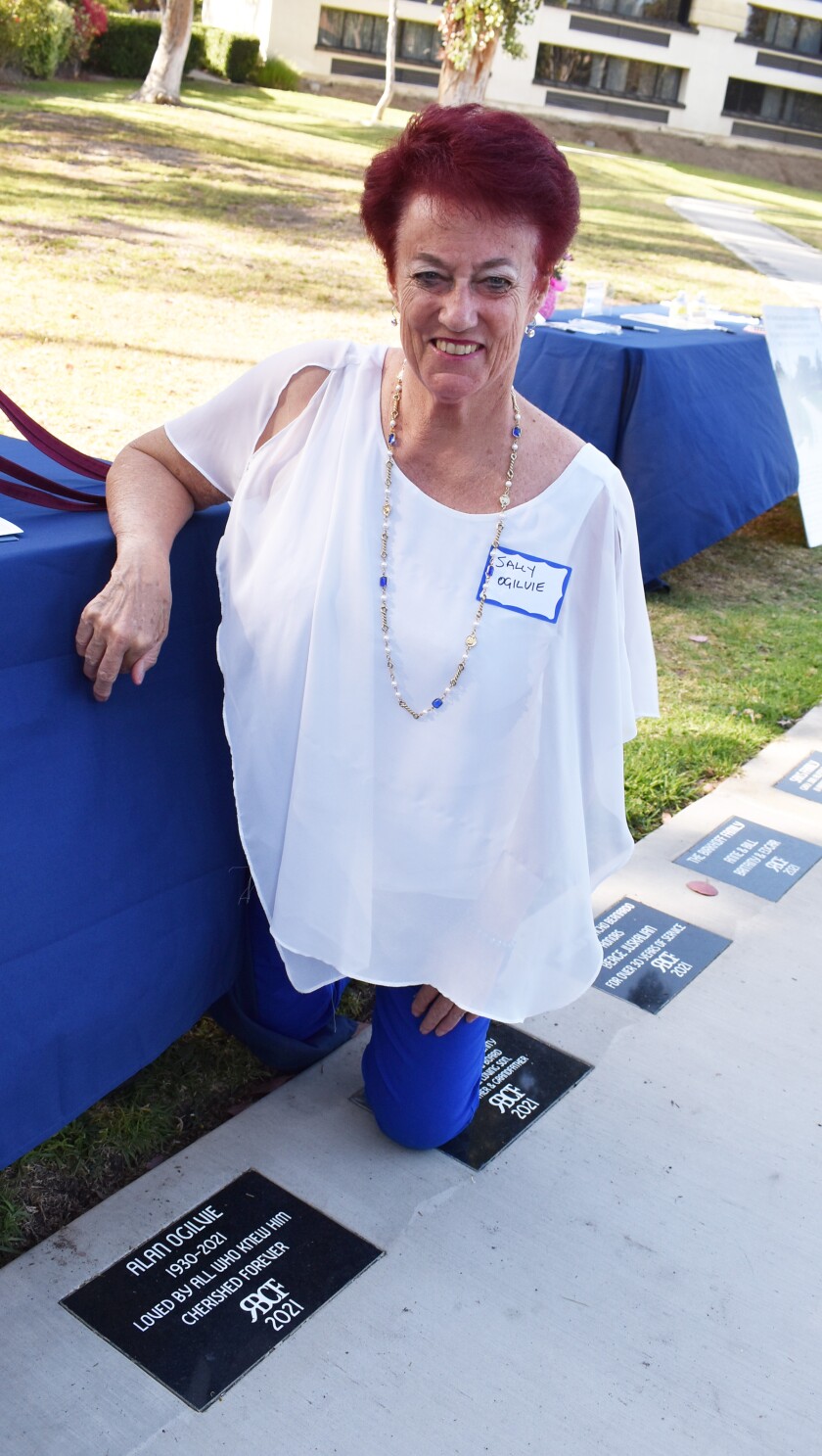 Sally Ogilvie purchased a plaque in honor of her late husband, Alan. They were married for 45 years.
"For 23 years we've lived here and we love Rancho Bernardo," Ogilvie said. "It's a very special place."
Ogilvie said her husband, a professional golfer, played at the old Bernardo Heights Country Club until five years ago when an injury forced him out of golf.
"His doctor insisted he had to walk and where is a better place than here?" Ogilvie said, referring to Webb Park and its lake. "We came two or three times a week and he got stronger. … It has become a special place for us.
"When he died (last year) he was adamant that he didn't want much, like the typical memorial service, but I couldn't bear the thought of doing nothing," said said Ogilvie. "It was a nice way to honor him. It's permanent and it's a contribution to the community.
Ogilvie had her husband's plaque engraved: "Alan Ogilvie 1930-2021 – Loved by all who knew him – Cherished forever."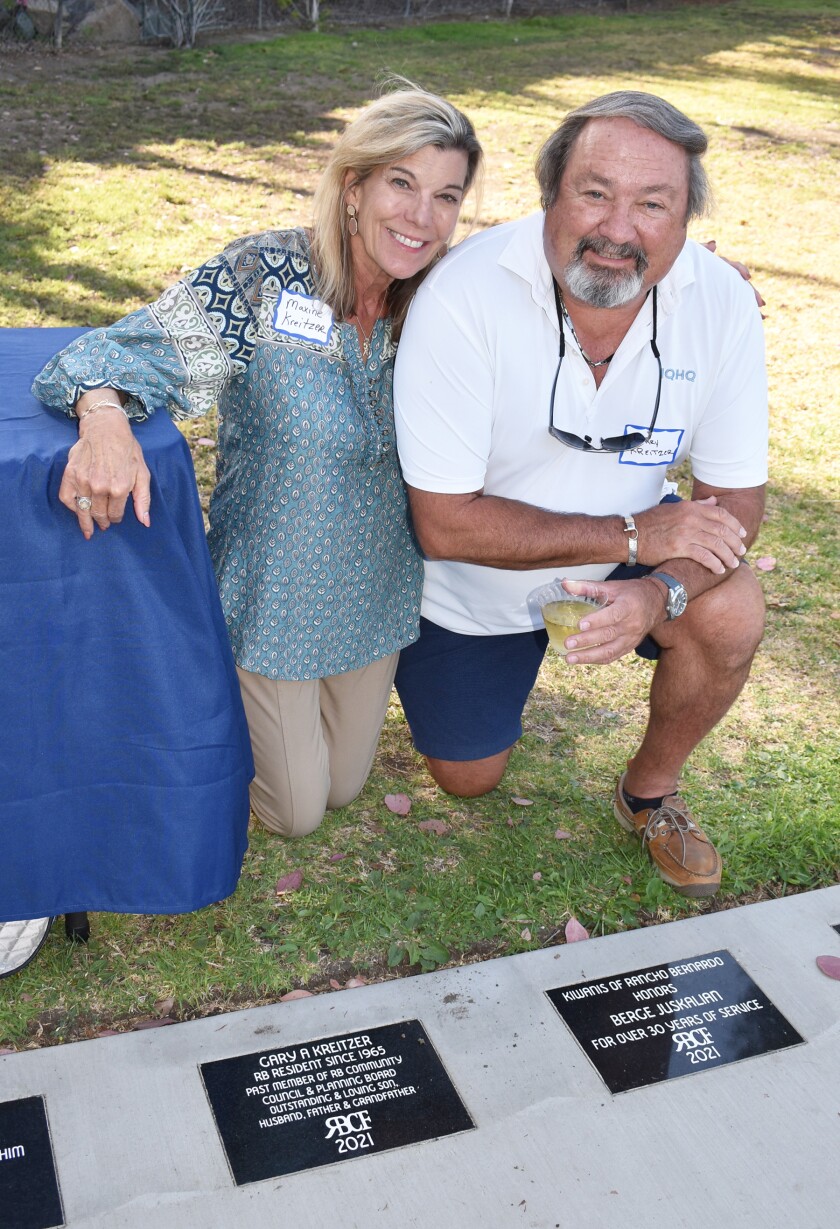 Gary A. Kreitzer was surprised with a plaque last Christmas by his wife, Maxine.
"I come from one of the original Rancho Bernardo families," he said. "In 1965 we moved to our new home. There were only 30 kids in all of RB, so a bus would take kids from K-12 to the school in Poway.
Kreitzer was in fifth grade when his parents, Dave and Georgette Kreitzer, made Rancho Bernardo their home. Her parents, who were at the ceremony, have a plaque about 50 feet from hers, which was installed several years ago.
His plaque engraving reads: "Gary A Kreitzer – Resident of RB since 1965 – Former Member of RB Community Board and Planning Board – Exceptional and loving son, husband, father and grandfather.
Kreitzer said his volunteer work in community government dates back to the 1980s, when the planning board considered new housing developments in RB, including the northern part of Westwood. He followed in the footsteps of his father, who had also been in both bands.
"I was one of the founders of men's softball and served on a board that predated the RB Foundation," Gary Kreitzer said. "We gave scholarships to RB students.
"It means a lot to have him here," he said looking down at his plaque. "It's really beautiful. We honored my parents (with one) and now (my wife) honored me.
Maxine Kreitzer said she believes her 35-year-old husband deserves recognition for all he has done in the community.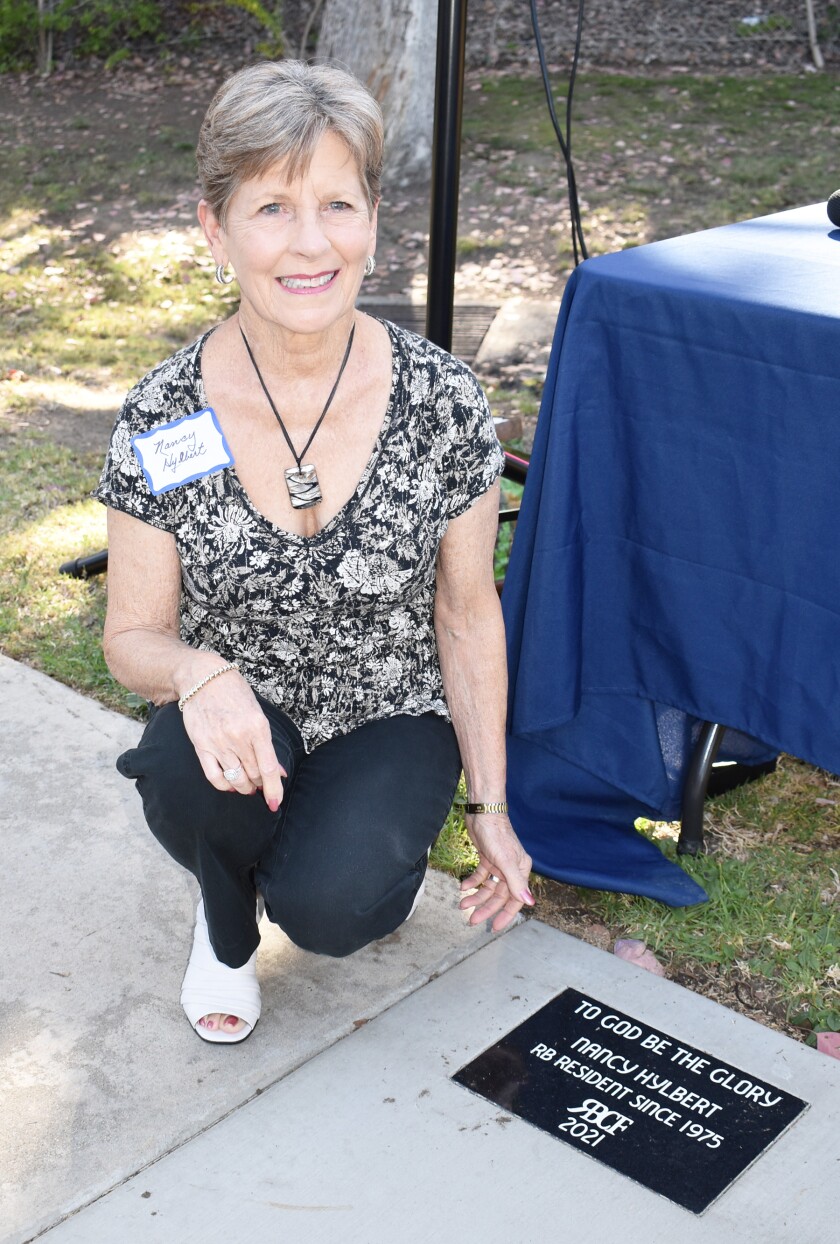 Nancy Hylbert said she didn't even think of the plaque when she donated to the foundation last year.
"I spent a lot of time in 2021 deciding where I wanted to donate," Hylbert said. "I was thinking of focusing on local organizations like the San Diego Zoo, the RB Community Foundation, and the RB Historical Society. I wanted to give to local places that were really worth it.
Hylbert, an RB resident since 1975, said she's worked for the Bernardo Town Center Property Owners Association since 1994. The association owns Webb Park, so she said it's become a "very special place" for she.
"I love the idea of ​​supporting Rancho Bernardo through the foundation and the historical society," Hylbert said. "It's where I live, work and play, so I want to give back here."
She had engraved on her plaque: "To God be the glory – Nancy Hylbert RB resident since 1975."
Daniel Wilson, president of the RB Community Foundation, said community support for its fundraisers, like the Pathway of Pride and the RB Community Thanksgiving Luncheon, has enabled the foundation to present more than $80,000 in grants. last November to RB organizations and projects designed to benefit the community.
"It's changing the quality of life at Rancho Bernardo," Wilson said. "Today we celebrate donors to the Pathway of Pride."
This year's plaque winners and buyers, in parentheses, were:
• The Birkhoff family – Anne and Bill, Britainy and Edgar (Bill Birkhoff).
• The late Andrew Boagni Dow (Steve Dow).
• Myrna Estremera, Honorary RB Mayor 2019-2020 (Rancho Bernardo Business Association).
• Nancy Hylbert (herself).
• Dave Imper – Kiwanian and friend (Kiwanis from Rancho Bernardo).
• Berge Juskalian – honored for over 30 years of service (Kiwanis de Rancho Bernardo).
• The Karscig Grandchildren – Maggie Woods, Dottie Woods, Julian Graham and Jojo Karscig (Mary Karscig).
• Gary A. Kreitzer (Maxine Kreitzer).
• Dan and Kathy Lunardi, Tony, Tim and Julie (Kathy Lunardi).
• The Mikas family – three generations in RB (Gerry Mikas).
• The late Alan Ogilvie (Sally Ogilvie).
• The late Sean M. Petro (Cheryl Collier).
The foundation is accepting reservations for 2022 plaques which will be installed next year. For the price of $1,500, the donor also receives a one-year Founding Partner Membership, valued at $500. Those who are already founding members can transfer the membership to someone else or have it applied to their next year's membership.
To purchase a plaque, email [email protected]. For more details about the foundation, visit rbcommunityfoundation.org.