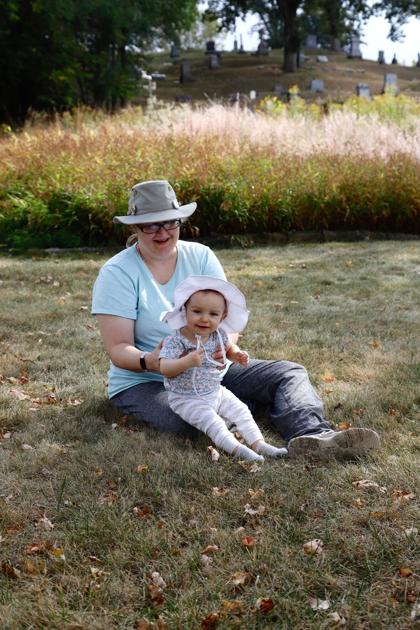 Fall Festival Gathers Hundreds of People at Andresen Center, Heritage Canyon | Local News
[ad_1]
FULTON, Ill. – Andresen Nature Center and Heritage Canyon welcomed hundreds of visitors this weekend during the Fulton Fall Festival.
Andresen was busy on Saturday, manager Kyle Kopf said, although turnout was slow on Sunday morning.
High school students earned volunteer hours working at the Center on Saturday, Kopf said, and 23 visitors brought packets of seeds home.
A meadow of native plants grows next to the Andresen Center. The Center distributes seeds to people who want to create their own meadow. Unlike most seeds people plant, grassland plants take two to three years to establish, Kopf said.
Educating people who want to plant grasslands is important, Kopf said. The Andresen Center meadow was planted between three and seven years ago.
Nearly 500 visitors visited Heritage Canyon on Saturday, volunteer Carol Fritz said on Sunday. "We had an absolutely fabulous day yesterday."
Visitors were in awe of America's early artisans who dress according to the era and perform tasks like they did in the early 19th century, she said.
Saturday visitors missed the petting zoo. Paula Adams and Chris McCauley of P&C Little Rascals, LLC of Chadwick hauled a trailer full of animals to Heritage Canyon on Sunday.
"We do a lot of children's zoos around [Illinois]Adams said. Hooligan the alpaca, Larry the llama, Annabelle the miniature cow, sheep and chickens were among the animals ready to welcome visitors.
Aaliyah Sikkema and Mia Meiners from Fulton cycled to Heritage Canyon. Meiners also visited the Canyon on Saturday, she said while petting sheep. "It's like a family tradition.
Meiners said his favorite part of the Canyon is the ice cream shop.
John Mallow of Bellevue became a fur trader over the weekend in Fulton. His camp and clothing was a picture of the fur trade from 1825 to 1840, he said.
Lucille Paul and Cami Bengtson of Clinton occupied the summer kitchen on Sunday. "I've been doing this since I was 9,†said Paul.
Paul typically volunteers alongside his grandmother, Liz Keller, chair of the board of the Early American Crafters. It was Paul's first year alone in the kitchen, but she brought a friend to help her.
[ad_2]