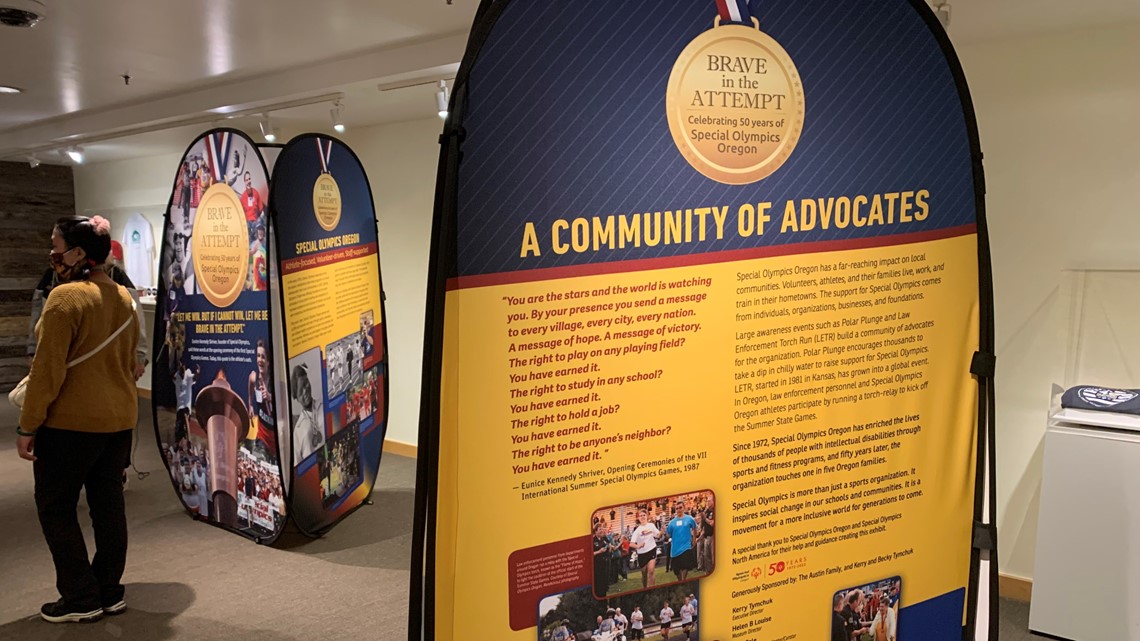 Free Exhibit Celebrates 50 Years of Special Olympics Oregon
The traveling exhibit is open to the public at the Oregon Historical Society over the weekend.
PORTLAND, Ore. – An exhibition at Oregon Historical Society celebrates 50 years of using sports training and competition to increase acceptance and inclusion. The Oregon Historical Society exhibit takes its name from the oath of Special Olympics athletes, which is, "Let me win. But if I can't win, let me be brave in the attempt."
"We serve children and adults living with developmental disabilities across the state of Oregon…it really shows how we've transformed in 50 years," said Britt Carlson Oase, general manager of Special Olympics Oregon. .
The traveling exhibit consists of three-sided pop-up booths, highlighting the impact Special Olympics Oregon has had on the community and athletes like gold medalist Colt Allen. Allen is an avid golfer, which earned him the medal and a sense of acceptance.
"I've been bullied in the past, in school and in life, and then I found out about Special Olympics," Allen said. "It gave me the opportunity to see positive changes."
It's a positive change that Lucy Balthazaar can also feel.
"Most of us were isolated from the general community," Balthazaar said. "For me, Special Olympics means everyone is included, regardless of skin color."
Balthazaar is part of the Oregon team. She won a silver medal in women's alpine skiing in 2016 and is now heading to the United States Special Olympics to Orlando in a few weeks to compete in swimming.
The exhibit's storyboards and medals bear witness to the history and hope of the athletes as they honor their oath.
"It makes me happy, it makes me proud to have come this far in my journey of growing up as a woman with a disability and a woman of color," Balthazaar explained.
Sunday, May 22 is the last day to view the exhibit at the Oregon Historical Society. Newberg is the next stop in the traveling exhibit.
RELATED: Team USA will leave Beijing without their team figure skating medals
RELATED: Scantily clad mountaineer sets new Mount Hood scaling record