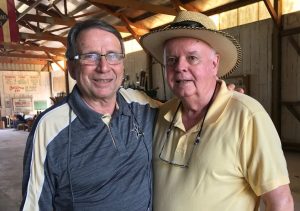 Greene County Museum Open House, History Discussions at County Fair | Raccoon Valley Radio
(left to right): Chuck Offenburger and Jerry Roberts. Photo courtesy of Greene Co Historical Society
The Greene County Historical Society invites everyone to the museum and to participate in its annual event at the Greene County Fair.
Executive Director Roger Aegerter said the open house at the museum will take place from 9 a.m. to noon tomorrow. The most recent exhibition is "Dig It! The 1950s, 60s and 70s "featuring articles donated by county residents from those decades. Aegerter notes that a previous program that took place with panelists talking about those years brought together more than 100 people, which he said was one of the largest crowds the historical society has ever had. The open house is free to the public and cinnamon rolls will be served.
Additionally, History Chats are held again during the County Fair. Today's program at 11am in the historic company building is "A Tribute to Rippey on his 150th Birthday" and at 1pm is "The Arts in Greene County – Past, Present and Future" . Historic conversations scheduled for tomorrow include "Dig It! The exhibition from the 50s, 60s and 70s at the museum at 11am and 1pm will be "What historical society should do at the fair". The events will be hosted by historical society members Chuck Offenburger and Jerry Roberts, all of whom are free and open to the public.
Finally, the historical society will have its one-class school open today and tomorrow on the exhibition grounds from 10 a.m. to 6 p.m.