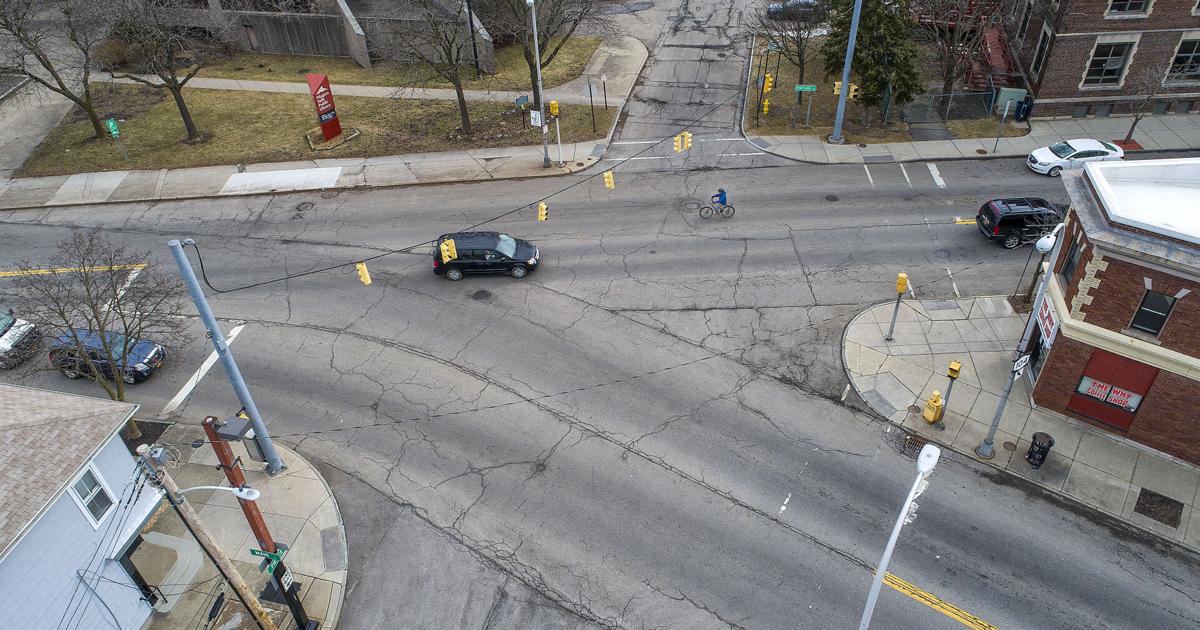 Heritage Area Project Aims to Improve Cycling in Falls | Local News
This may not seem like an obviously dangerous intersection, but Lewiston Road/Monteagle Street and Chasm Avenue are indeed on the map of dangerous places for cyclists or pedestrians in Niagara Falls.
This will soon change. GObike Buffalo is working on a project to make the intersection safer.
Meanwhile, the Niagara Falls National Heritage Area tackles Main Street, Portage Road and Pierce Avenue, an equally challenging intersection, thanks to a $25,000 Asphalt Art Grant from Bloomberg Philanthropies.
Sara Capen, executive director of the Niagara Falls National Heritage Area, said crosswalks will likely be added this year with additional features to come.
"There will be bumps and a sense of vibrancy, an artistic experience in these hallways," she said. "We are going to make it much more beautiful. Right now, even crossing is like playing "Frogger." "
The Monteagle/Chasm project began in 2021 when the City of Niagara Falls approached GObike and requested a way to increase safety and pedestrian and cyclist access to Main Street and the Niagara Gorge.
State Department of Transportation data shows that between 2017 and 2021, seven pedestrians and cyclists were struck by vehicles in the area, each resulting in injury.
Cindy Wood, planner at GObike, said a traffic study showed that while many vehicles were traveling at a reasonable speed, others were found going up to 80mph.
"The community's vision is to improve the intersection with the use of bumps, slowing cars and adding crosswalks," Wood said. "The work is temporary to create a report. The city is competent. »
Temporary barriers and decoratively painted pavement will be designed to calm traffic, Wood said. The idea is to reduce the time a pedestrian or cyclist spends in the "danger zone".
Wood reassures residents that adding a traffic light was not part of the plan. The location was chosen due to proximity to the Highland and Center district.
Work will be completed in the last week of June/first week of July and is consistent with the 2019 Niagara Falls Cycling Master Plan.
Capen is grateful to work with GObike.
"We worked on a comprehensive plan for Placemaking with opportunities to tell the city's story," she said.
US Community Survey data shows there are approximately 2,310 residents within half a mile of the intersection.
According to counts made by GObike, 48 pedestrians and cyclists use this corridor every day. Nearly 20% of households in this area do not own a car. Two different NFTA bus routes also serve this population.
Main Street, Chasm Avenue and Monteagle Street will be the site of a pilot project later this year to make things safer by incorporating feedback from the surrounding community on traffic speed, access and safety.
The project is in collaboration with the City of Niagara Falls and with support from the Verizon Media Community Benefit Fund for Niagara County, the Health Research Institute (NYSDOH), and the Downtown Revitalization Initiative.