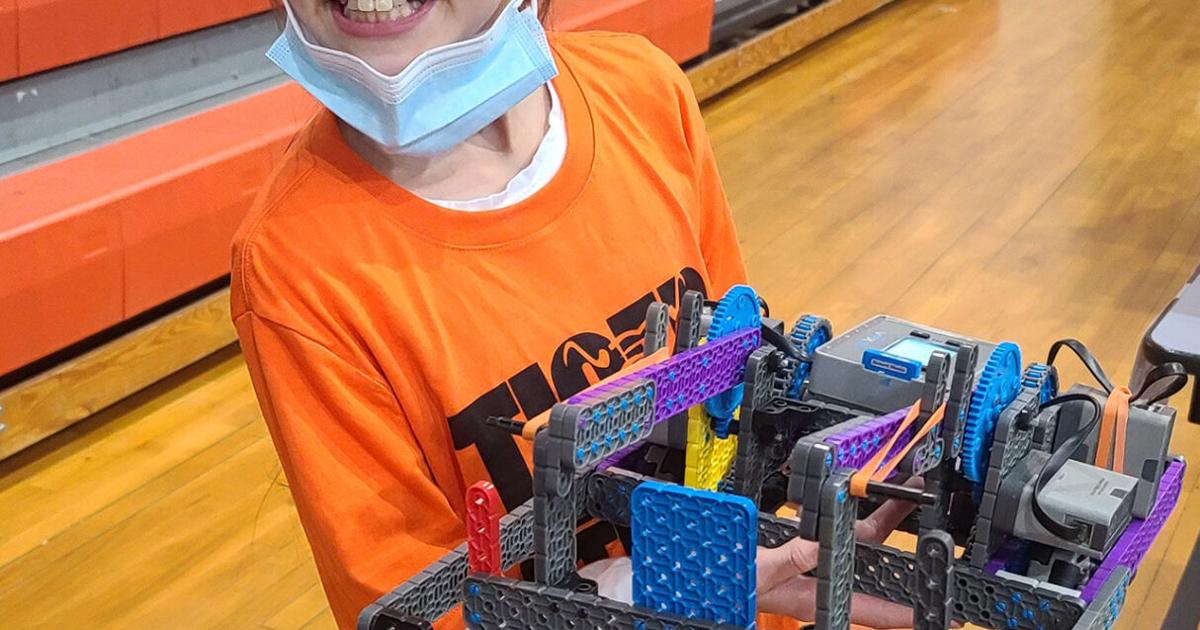 Heritage Robotics Team Heads to Global Competition | Education
TAHLEQUAH — Being very young proved not to be a liability for a robotics team at the recent state championship robotics competition at Northeastern State University.
Among the 29 teams were entries from Tahlequah Public Schools, including Heritage Elementary School team "10050R Gears" with Cherokee citizen Emberly Stout and teammates Aerin Hosselkus and Aubrey Cochran.
After the robots were powered off, the third and fourth graders of Gears "10050R" won two prizes, including a qualifier for the world championship competition. They were recognized at the following TPS School Board meeting along with two teams from Tahlequah Middle School who also qualified for the global competition.
"It's important to go to these competitions to learn more about robotics — like how to drive the robot, meet other teams, and what to do better next time," Emberly said. "It's really fun there because it's fun to drive and see other teams doing things and interacting with other teams.
I got into robotics because I wanted to try and see if it was the right thing for me and it was. I wanted to learn how to build, program and pilot a robot. I really like that. I hope to gain a little more experience with driving and be able to clear a whole field and get a lot of points. I also hope to design a bot on my own, without any instructions or help. »
The "10050R Gears" team, under robotics coaches Brandi Franks, Traeton Dansby and Kristen Wadley, won the Good Sportsmanship Award and the Excellence Award. The Excellence Award qualifies "10050R Gears" for the 2022 VEX Robotics World Championship in Dallas May 3-12.
Emberly's mother, Kathryn Wabnum, said the "10050R Gears" girls are called the "baby bots" by their coaches. She said the Excellence Award recognized the team for their positive attitude, team spirit, monitoring other teams, dedication, devotion and creating a high quality competitive atmosphere.
"They triumphed against all odds and made it to the world championships," Wabnum said. "It was the highest prize for all primary school students and it went to the youngest team who finished 21st out of 29 points. It was an incredible and unexpected victory for a young and inexperienced team with a heart of 'gold.
The World Robotics Championship will host up to 48 different countries and thousands of people will attend.
"What's great is that each nation takes turns walking the stage, and because Cherokee Nation is a sovereign nation, they can walk separately from the American teams that have done it. It will be a great platform to fully showcase the Cherokee culture," Wabnum said.
The team is still looking for donations for the trip to Dallas. Contact Wadley at wadleyk@tahlequahschools.org or Dansby at [email protected].