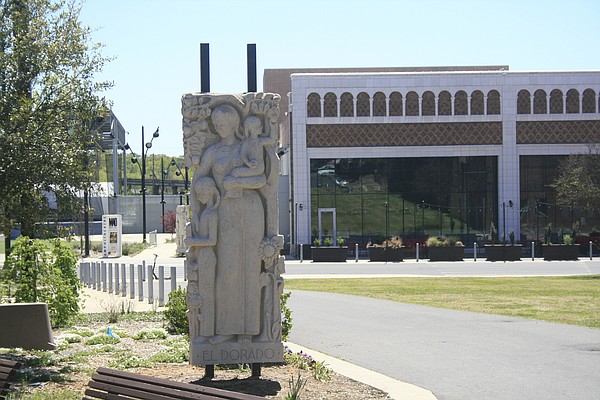 Historic sculptures move to MAD after 40 years in Warner Brown Hospital building
The Murphy Arts District has a new attraction to brag about, but longtime residents and observant visitors will recognize the new artsy features that dot the entertainment complex.
Six sculptural panels that were previously displayed high along the Warner Brown Hospital building have been moved to the MAD complex to serve as an educational and decorative addition to downtown El Dorado.
A seventh panel will be presented to the South Arkansas Historical Preservation Society.
"Not only will the coins have nameplates that come with them, but we will also have brochures that will go to any educational institution that would like to bring students, or any member of the general public who would like to drop by and take a historic walk and discovering the carvings," Bechtelheimer said. "And that's what I love about it is that when they're down, you're one-on-one with them. You can see them up close. There are many beautiful details that you don't notice. remotely, so that they can experience it at its true value, on the spot."
Joanna Benson, MAD's Director of Marketing, added: "We often have schools coming through…and we want them to be very aware that it's there now, for their students – something to learn, and it's there. is a hands-on learning experience."
"And it's tactile," Bechtelheimer said. "You can touch them. I think that's something that cements kids' learning."
The sculptures were first commissioned after Dr. Paul Henley, a longtime physician at the nonprofit Warner Brown Hospital, came up with the idea. Bechtelheimer said Henley believed beauty could help improve patient health and that the hospital should reflect the character of the community.
"When they built this wing on Warner Brown, he really thought a hospital should be more than a hospital; he thought it should be a place – it should have character and express hope, joy, beauty. He felt that these are attributes that would indirectly lead these patients and their families to health and life," Bechtelheimer said. "It's important that people have something to focus on — when they're there in times of stress, to escape into a beautiful work of art… He knew the importance of art to the well-being of a community."
Henley helped form an art development committee at Warner Brown, chaired by Lyda Merkle, and private funds were raised to pay for the commissioning of the sculptures. Originally, Bechtelheimer said, Merkle contacted Millard Sheets, an artist known for his public mosaic murals in Southern California; however, his son, Tony Sheets, suggested a series of panel carvings – a frieze – instead.
The sculptures, which range in size from around 3ft by 9ft to around 9ft by 9ft, were created from concrete by Tony Sheets and Richard Ellis and were displayed in March 1982.
Forty years later, they are presented again at MAD.
"When I started my career as an art educator in El Dorado, I used to take my students on field trips to see the building and also the contents of the building – there were lots of beautiful works of art in the building, which is now at the (South Arkansas) Community College library, and there's also some at the Historical (Preservation Society) – so it's a gift that continues to be given to the community" , Bechtelheimer said. "I think there are going to be a lot of people to see them."
The process of moving the sculptures took years. The SHARE Foundation, which owns the sculptures, first contacted former MAD CEO Terry Stewart to gauge the association's interest in exhibiting the works. Stewart left MAD in 2020, but by then Bechtelheimer was working with the organization to help provide arts education for children, and she stayed on to help move the sculptures.
Working during the pandemic, Bechtelheimer set about researching art history, what it would take to move the sculptures, and what would be the best way to display them at MAD.
"We had to do some research to see what that would entail – getting them down, moving them here. We had a willing partner (in the SHARE Foundation), in that they wanted to keep them in the community, keep it viable "Bechtelheimer said. "You see them up high and on a wall in the hospital, but we don't have a wall here strong enough to support them. It is, you now, a historic building, so it was not possible to put on the wall."
Years of hard work paid off last week when construction workers welded a fame around the still-hanging sculptures and carefully removed them from the walls of Warner Brown. They were then cleaned up as new frames were installed around the MAD complex, and now the sculptures can be viewed by local residents, free of charge, at any time.
Benson also noted that the sculptures will be another piece of El Dorado and Arkansas history now easily accessible in the walkable downtown business district.
"We have so much history in our downtown…and now anyone can easily walk up to us and get even more," she said. "Oil Heritage Park, the Rialto – it's all going to kind of tie together."
Bechtelheimer and Benson said details would be released on a celebration of the new sculpture plaza at MAD.
Where to find the carvings
1) El Dorado: A sculpture celebrating the city's founding – from its place at the heart of the 1920s oil boom to the center of the World War II chemical industry to its transition to a cultural hub in southern Arkansas – sits in First Financial Park, at the entrance to the MAD Complex next to the historic Rialto Theatre.
2) From Tonti: A sculpture noting Henri de Tonti, the Italian soldier who founded the first permanent European settlement in Arkansas at the junction of the Arkansas and Mississippi rivers at Arkansas Post, is placed on the corner of the MAD complex facing Washington Avenue.
3) Arkansas-Ouachita: A sculpture noting the first indigenous peoples that French and Spanish explorers thought they had encountered when they arrived in Arkansas (Bechtelhimer noted poor communication between the different peoples – the French called the Quapaw tribe the "Arkansas" tribe, an interpretation of the Ohio Valley Tribe term for "people of the south wind", and spelled the Caddo Tribe word for "good hunting ground" (Washita) as "Ouachita") is located in front of the Ritchie Building .
4) Caddo Quapaw: A sculpture showcasing the Native American tribes that populated Arkansas at the time of European settlement, the Quapaw and Caddo, and their continued legacy in the state, is located at the northeast corner of the MAD complex.
5) Arkansas To post: A sculpture noting the first European settlement in Arkansas, Arkansas Post, which was primarily a fur trading outpost where French explorers traded goods for beaver pelts with members of the native Quapaw tribe, is located at the exterior of First Financial Music Hall.
6) From Soto-LaSalle: A sculpture showcasing Spanish explorer Hernando de Soto, who is credited with discovering the Mississippi River and following it through Arkansas, and French explorer Rene Robert Cavelier, Sieur de la Salle, who also traveled the Mississippi and established trading posts along it, in their roles in making alliances with Native American tribes in Arkansas, is located at the main entrance of the Mule Kick restaurant.