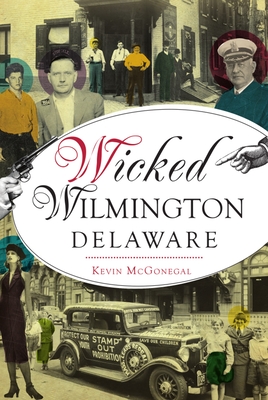 Historic "Wicked Wilmington" speech to take place on October 12
Delaware historian Kevin McGonegal will present a live online discussion on his new book, "Wicked Wilmington, Delaware," at 5 pm Tuesday, October 12, hosted by the Lewes Public Library, the Delaware Historical Society and Browseabout Books.
"Wicked Wilmington" takes readers on a journey through crime and vice in 20th century Wilmington, from a bawdy-house on Tatnall Street to the boardrooms of the DuPont Company. McGonegal brings tales of the dark side of town to life, including a professional killer pleading in self-defense, runaway lovers caught in an international extortion scheme, and more. Visit the former New Castle County Labor House, the scene of a robbery by a mob of lynchers and the daring escape of a notorious murderer. Readers encounter a police chief trying to keep his corrupt practices a secret, officers raiding political headquarters, and a murdered detective on the streets – all of it was part of city life during this time.
McGonegal will be joined in the conversation by Dr. David Young, executive director of the Delaware Historical Society.
A longtime Wilmingtonian, McGonegal holds a bachelor's degree in history from Fairfield University and currently serves on the boards of the Delaware Historical Society and Wilmington's Downtown Visions. He worked in the Wilmington Mayor's Office under three mayors, including as Director of OMB and as Chief of Staff to the Mayor. He has spent the past 33 years in the Wilmington commercial real estate market and has taught for the Master of Public Administration program at the University of Delaware.
The discussion is free to the public. Registration is compulsory. To register, go to lewes.lib.de.us and visit the Virtual Programs for Adults page.
Participants are also encouraged to support the author by purchasing a copy of the book from the local independent bookstore Browseabout Books. Each copy purchased is accompanied by an archival ex-libris signed by the author. Orders can be placed online at browseaboutbooks.com, by calling the store at 302-226-2665, or in person at 133 Rehoboth Ave., Rehoboth Beach.
To learn more about the Delaware Historical Society, visit dehistory.org.