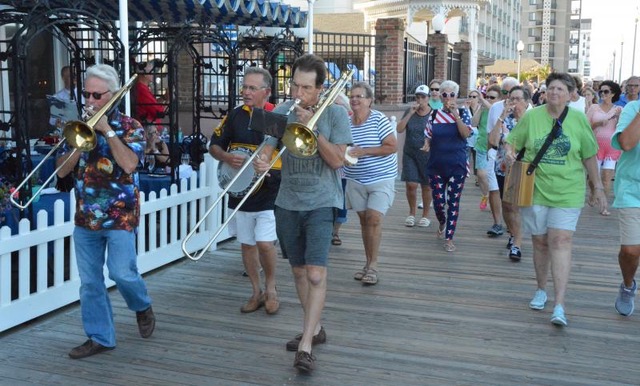 Rehoboth Beach to host Piping Out Boardwalk parade on September 6
Rehoboth Beach's historic tradition of going out in the summer on Labor Day with a merry musical parade on the boardwalk is again led by the Rehoboth Beach Historical Society and Museum.
Partygoers with musical instruments of all kinds are invited to gather on the promenade at 5:30 p.m. on Labor Day, Monday, September 6, in front of the Henlopen Hotel. The group will then proceed down the promenade to the bandstand. The historical society provides kazoos to people without their own instruments.
Piping Out the Summer was born in the mid to late 1950s with the late conductor and trombonist Sammy Ferro, whose orchestra performed for dances held at the former Henlopen Hotel. After the last dance of the summer on Labor Day, Ferro took his group to the stage, followed by his audience, then led a spontaneous musical parade along the promenade to near Rehoboth Avenue.
This year, musician John Witmer, who helps organize the event, plans to play Sammy's trombone, which is part of the museum's collection of historical artifacts.
Ferro was also a radio presenter in Washington, DC, and an enthusiastic promoter of Rehoboth Beach, and in his programs he regularly referred to Rehoboth Beach as a fun vacation destination. "Piping Out was her own unique contribution to making Rehoboth a fun experience," said Nancy Alexander, museum director.
The tradition temporarily ended when the hotel was destroyed in the 1962 storm, but resumed when the new hotel was completed in the early 1970s. Cape Gazette records show that Ferro ran the Piping Out until 'in 1999, when her heart started to falter. He died on November 6, 2001, at the age of 87.
Reservations are not necessary.
For more information, visit rehobothbeachmuseum.org or call 302-227-7310.