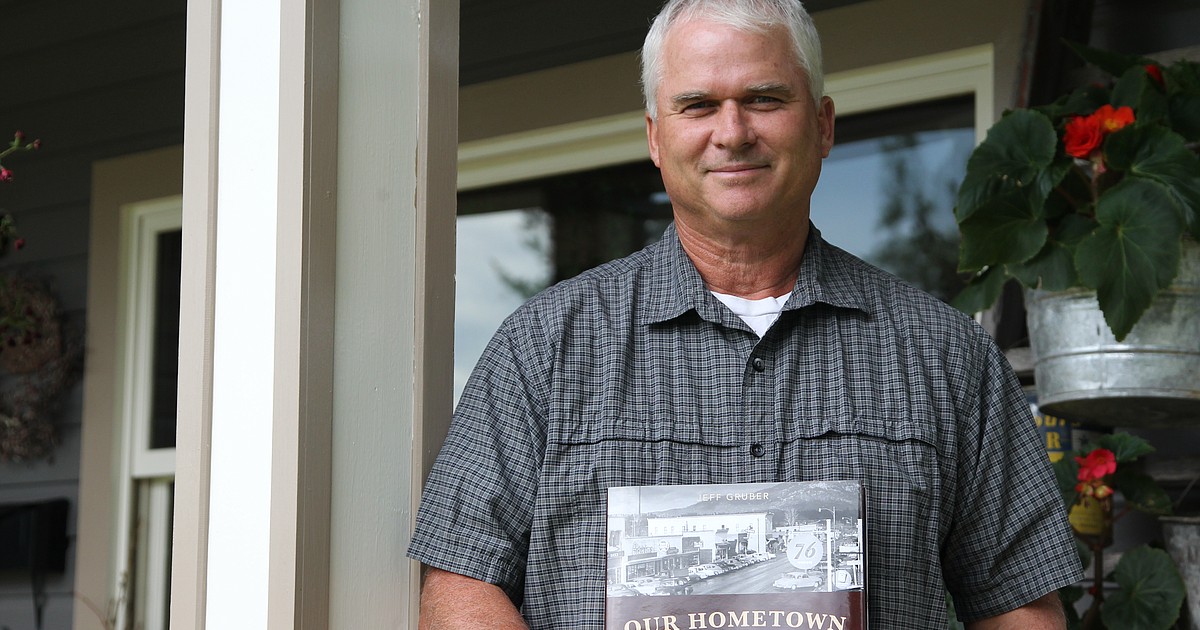 Retired teacher sheds light on city's history with new book
[ad_1]
When Jeff Gruber set out to document Libby's story, he thought the project might take him a few months. Today, after 17 years of cataloging, research and writing, the first of his three volumes on the city and its surroundings arrives in libraries.
Thinking back to the process, Gruber said his endlessly extended deadline drew criticism from friends and colleagues. But, in the end, he was glad he had given the work the time it deserved.
"I wanted it to be quality. So many times, especially in teaching or education, we sort of get by and do it on a budget, â€he said. "I just wanted a book that Libby could be proud of."
Gruber spared no effort when researching records for his trilogy. His research led him to archives as far as Tacoma, Washington, and Saint Paul, Minn. He has spent hundreds of hours perusing microfilm, rummaging through the Libby Heritage Museum's photo collections, and interviewing aging residents.
Its first volume, "Our Hometown: A Pictorial History of Libby, Montana," which goes on sale August 12, examines the town's history of Libby. The people, organizations, churches, and businesses that have defined the city from the discovery of gold in Libby Creek to the completion of the Libby Dam are the focus of the book.
In the second book, Gruber plans to explore the outlying areas of Libby, including the farms and towns of Warland and Jennings. The book will also cover mining companies and the Libby Dam project. In the third volume, the one that excites him the most, Gruber will delve into the history of the local timber industry.
Having completed most of his research, Gruber expects to complete the next two volumes in two to three years in a row.
Gruber brought his interest in Libby's story back to high school when he worked afternoons and weekends at the Lincoln County Library. Spending time with famous local librarian Inez Herrig and her husband, Bob Herrig, both lifelong residents, Gruber delved into the stories of Libby's past. The stories his father-in-law, originally from Libby, shared with him about the history of the town only pique his curiosity.
After starting Libby High School as a history teacher in 1989, Gruber found another way to explore and share his passion for local traditions. Beginning in 1995, he involved his classes in the Montana Heritage Project, a program that encourages students to make their community the subject of serious historical study.
"The explorations with my students during these 11 years made me aware of the rich and unique history of my hometown,†he writes in the preface to the first volume.
Gruber said the idea of ​​compiling and writing an illustrated history of Libby probably first came to him when he was depositing collections of photographs at the Heritage Museum in the 1990s.
"There was no archive, there were things in boxes and a lot of photographs,†he said. "I started to organize them, catalog them and put them in a more stable format… that's probably when I started to think it would be nice to have a book."
In 2006, he took a quarter of the school year to devote himself full time to the project.
As part of his research, Gruber carefully combed newspaper archives, noting every step the city has taken. In 1906, for example, the Dawson Lumber Company built the first large sawmill in the area, marking the beginning of Libby's rise as a logging town.
The microfilm also helped Gruber identify watersheds in the history of the community of Libby. The first mention of Legion baseball he documented was in an August 6, 1953 article about the team's loss to Fort Peck.
The period between 1909 and 1915 was the most intriguing chapter in Libby's history for Gruber. During this period, Lincoln County was incorporated, Julius Neils purchased the Dawson Lumber Company, and electricity came to Libby.
"It was an interesting time to see Libby evolve and develop,†he said. "Our first townspeople were really invested in the city: they wanted to have good schools, they wanted to have good streets, they wanted to have electricity. They were really trying to put Libby on the map.
The boom didn't come without its growing pains, however. A bizarre feature of Libby's first electrical system was that it only ran three days a week and only a few hours. Initially, the city relied on Flower Creek as a source of electricity and water. Often there was not enough water flowing in the creek to meet both needs.
"It was name-only electricity,†Gruber said.
Gruber's research also connected him with local notables such as Margaret Redfield-Wenk. Born into a farming family in 1918, Redfield-Wenk experienced most of Libby's early development. After Gruber began work on his book, Redfield-Wenk went through countless interviews and entrusted him with binders of photographs and notes. In thanks for his help, Gruber dedicated his book to him.
Gruber will be holding a presentation and first book signing at Memorial Center on August 12 from 6 to 9 p.m. August 14 from 11 a.m. to 2 p.m., The Keep on August 19 from 2 p.m. to 5 p.m. and Timberline Auto on August 20 from 4 p.m. to 7 p.m. and August 21 from 10 a.m. to 1 p.m.
Starting August 16, "Our Hometown: A Pictorial History of Libby, Montana†will be available at the Homesteaders Ranch and Feed, Mountain Meadows, the Heritage Museum, The Keep and the Libby Chamber of Commerce.
Norm's soda fountain in Kalispell will also store the book.
[ad_2]