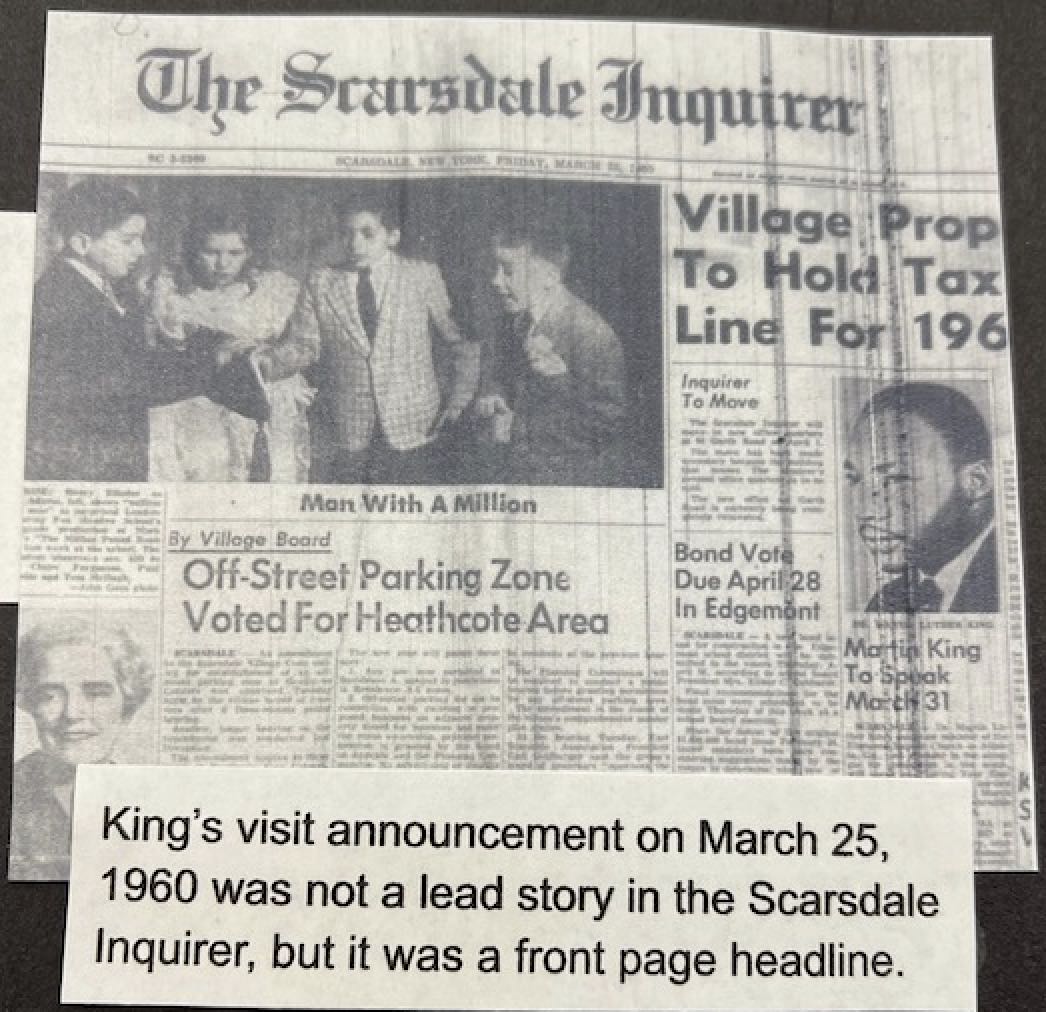 Scarsdale Historical Society and Scarsdale Library look back at Black history in Scarsdale
Scarsdale Historical Society and Scarsdale Library look back at Black history in Scarsdale
Wednesday 09 February 2022 18:32

Last updated: Wednesday, February 9, 2022 6:42 PM

Posted: Wednesday February 09th 2022 6:32 PM

Joanne Wallenstein

Hits: 77
To celebrate Black History Month and display Scarsdale Library's beautiful new Reference Room, the Scarsdale Historical Society and Scarsdale Library have joined forces to create an exhibit on Black History in Scarsdale. Leslie Chang of the Scarsdale Historical Society presented the exhibit in a Video presentation available on Facebook live.
The exhibit uses original documents, photographs, newspaper articles and letters to shed light on slavery in the 1700s and 1800s, then jumps to cover two visits to Scarsdale by Martin Luther King in the 1960s.
Local History Librarian Dan Glauber explained many of the records documenting slavery in Scarsdale and Associate Village Historian Jordan Copeland reviewed photos and history of the black community on Saxon Woods Road and also explained the Underground Railroad mythology in Scarsdale.

The exhibit shows details of King's 1965 visit to Jon Marqusee's home on Kensington Road in Fox Meadow, followed by a benefit for Abbot House. Also shown are photos of a march attended by 2,000 people in Scarsdale following the assassination of Martin Luther King on April 4, 1968. At the time, the Scarsdale Clergy Club held a memorial march and 2,000 people turned out are walked from Butler Field to Chase Park in silence. At the time of King's funeral, flags were lowered, schools were closed, and businesses in the village also closed.
Jordan Copeland reviews the history of the black community on Saxon Woods Road.
The virtual tour of the exhibit given by staff members of the Scarsdale Historical Society and Library was presented live on Facebook at 7 p.m. on Tuesday, February 8, 2022. The video is available on request and brings these historical documents to life. If you haven't had a chance to visit the new Scarsdale Library, be sure to see the library and exhibit.