Spring Festival Forecast | The music
Spring means festivals bloom like flowers across the landscape, watering event schedules. I'm no meteorologist, but I can vouch for a strong festival front moving through the North Carolina spring forecast.
J. Cole's Dreamville features a dream season opener April 2-3 at Dorothea Dix Park. The festival not only touts the reunion between Ja Rule and Ashanti, but also the debut of DJ Drama's Gangsta Grillz with Lil Wayne, Jeezy and TI. Other artists include Lil Baby, JID, Rico Nasty, Kehlani, Moneybagg Yo, EarthGang, Wizkid. , Fivio Foreign, Blxst, Bas, Mereba and more on the expansive campus near downtown Raleigh.
Electronic music continues to reign throughout the month of April. A partnership between In Tha organizers and Draba "brings the beach to Boone" on April 9 for "inthafest: tiki time" at the Ransom Pub. Millie Go Lightly, Abel Maasho, Jet Rogers, TGBEAM, Rebels No Savage and many more light up the lineup. In the Triad, a new season of NIGHT MOODS blooms at SECCA on April 16, with Marley Carroll and F4SHO at the historic Hanes House in Winston-Salem.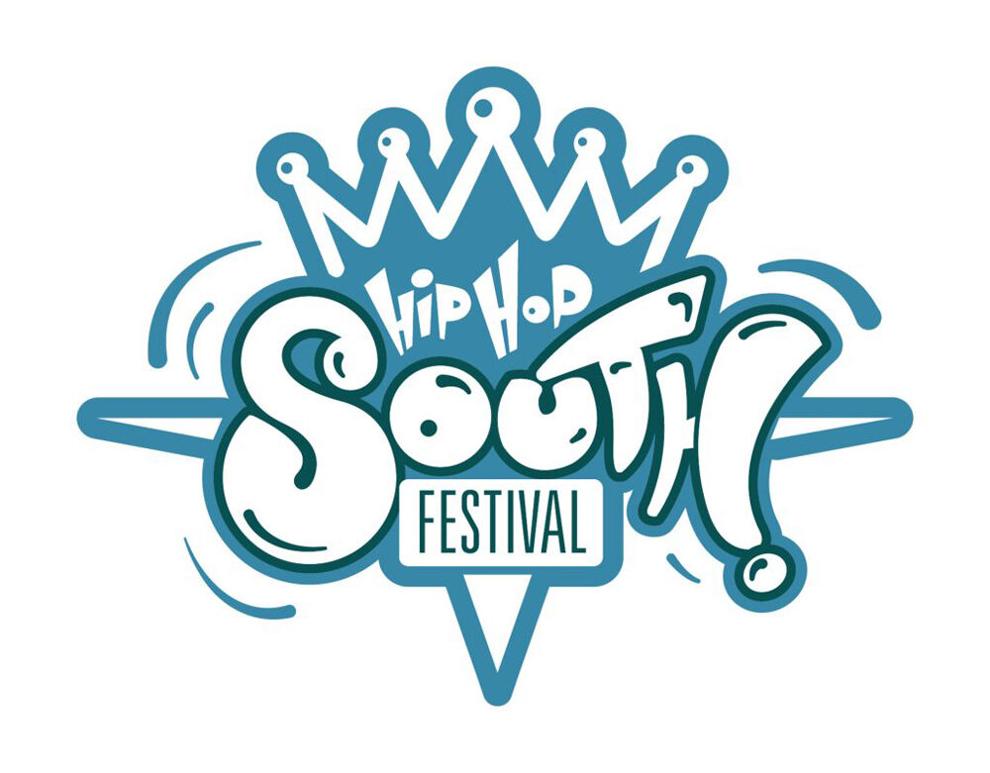 The Hip Hop South Festival takes place around Carrboro and Chapel Hill on April 22nd and 23rd. As part of Carolina Performing Arts' Southern Futures initiative, the festival takes place over two days, each with a main show at major venues; and an after-party at Current Artspace in Chapel Hill.
Co-hosted by Harvard Nasir Jones Hip Hop Scholars Christopher Massenburg (also known as Dasan Ahanu) and Dr. Regina Bradley, the festival features "hip hop heavyweights and local artists, as well as college rallies, nightly dance and rhythm fights, visual arts, and more.
Friday's main show features Rapsody, Shirlette Ammons and Carolina Waves at Cat's Cradle, followed by a dance battle, Turn It Loose, Vol. 3 with the Raleigh Rockers that night. Day two begins with Big Boi, Sa-Roc and Radio Rehab at historic Memorial Hall on the UNC-Chapel Hill campus. That night will feature a Beat Battle featuring The Soul Council.
For filmmakers, the RiverRun International Film Festival takes place around Winston-Salem, April 21-30. For foodies, the Greensboro Food Truck Festival takes over downtown Greensboro on April 24.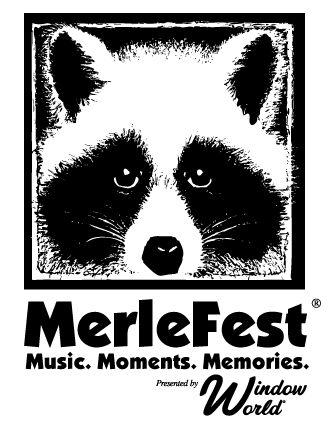 In May, the weekends roll, starting with Merlefest. "America's Top Roots Based Music Festival", from April 28 to May 1. Legends like Emmylou Harris, Trampled By Turtles, Nitty Gritty Dirt Band and Donna the Buffalo mingle with The Nude Party, Dr. Bacon and Rev. Peyton's Great Fucking Group. The Steep Canyon Rangers, His & Hers and the Jeff Little Trio are among the slew of pickers and grinners (and Triad performers) heading up the hills to Wilkesboro for the weekend. Meanwhile, in southern Piedmont, a more artisanal festival will emerge from the porch of Laura Jane Vincent's farmhouse for Glendonfest.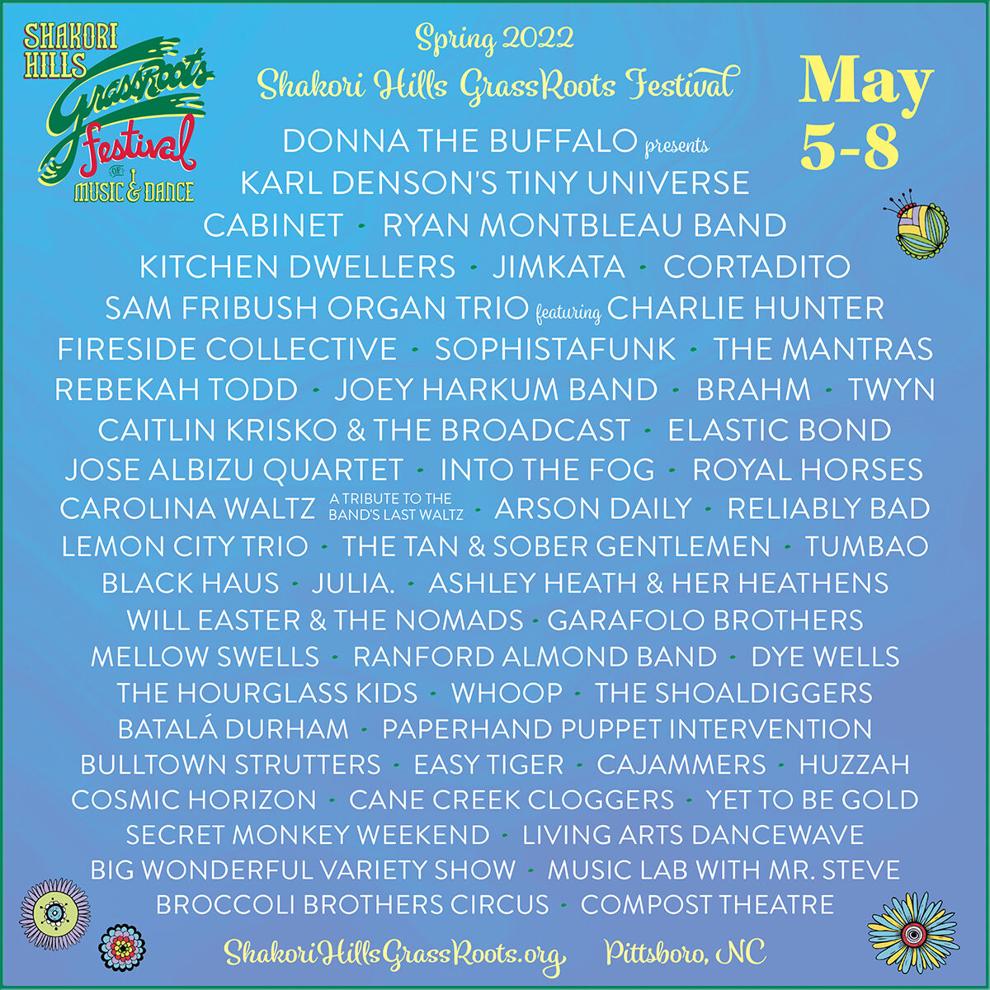 Donna and the Buffalo will hang out in the area, headlining their biannual Shakori Hills music and dance festival in the heart of Chatham County, May 5-8. Celebrating its 18th year, Will Easter and the Fireside Collective are other MerleFest features. Featured triad artists include the Sam Fribush Organ Trio with Charlie Hunter, The Mantras, Reliably Bad and Black Haus.
At the other end of the Triangle, the Casual Campout will kick off a busy weekend on May 20 and 21. Set on a 350-acre family farm, with an eight-acre lake and 9-hole disc golf course, Campout will keep things on the jam side with Rebekah Todd, Into The Fog, Baked Shrimp, Slick Mahoneys, The Wright Ave, Ranford Almond and William Hinson. Plus, a dance party with thefacesblur will help campers dance the night away.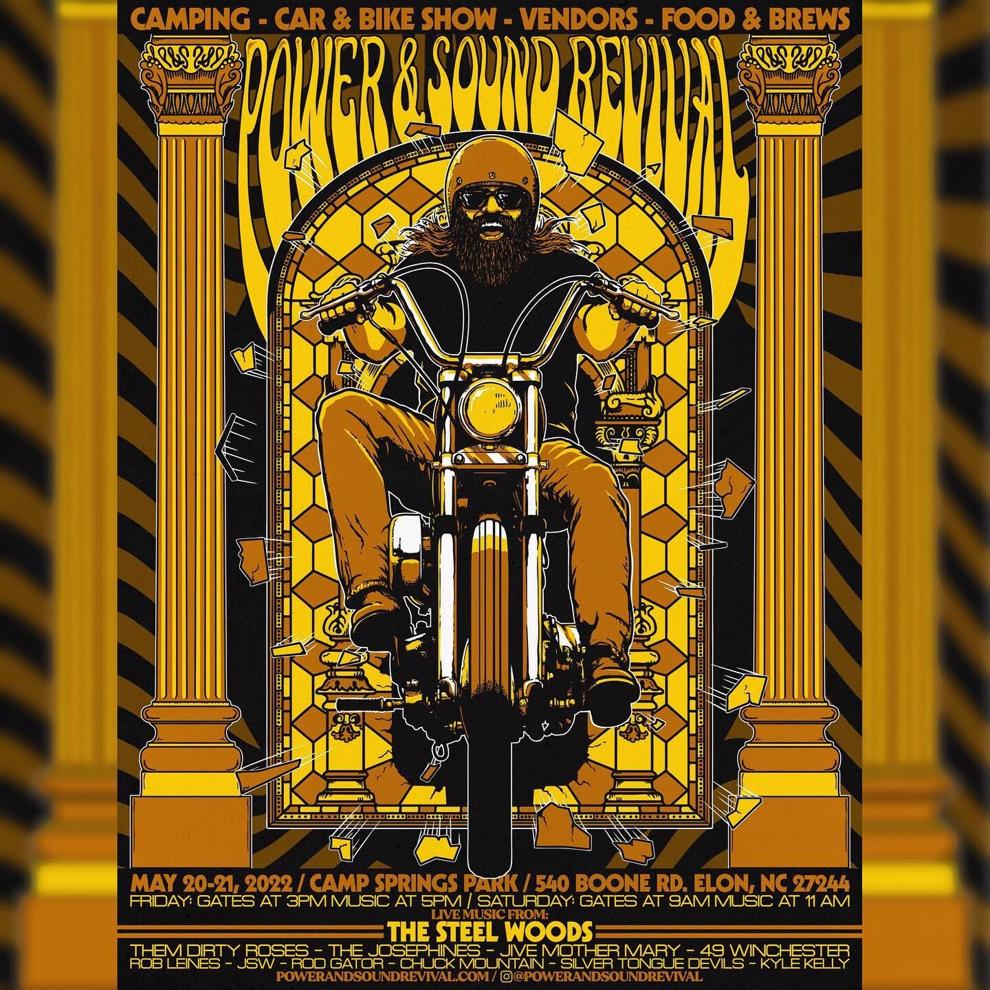 In Elon, the Power and Sound Revival spins at Camp Springs Bluegrass Park. Rolling for the second year, featuring bikes, bands and vans, the lineup includes: The Steel Woods, Chuck Mountain, Jive Mother Mary, JSW Seth Williams, Them Dirty Roses, Rod Gator, Kyle Kelley and The Josphines; with 49 Winchester, who will be heading to the coast this weekend for the Beaufort Music Festival, also taking place May 20 and 21 at Gallant's Channel on the Beaufort waterfront. They will be joined by Big Something, Old Crow Medicine Show, Susto, The Collection, Empire Strikes Bass, Shamarr Allen, and more.

Meanwhile, blue skies are guaranteed (at least figuratively) in Greensboro on May 21 for the 36th annual Carolina Blues Festival, hosted by the Piedmont Blues Preservation Society in Lebauer Park. Hue cruises down I-85 that afternoon, with Blues Traveler and the Spin Doctors at the Cheerwine Festival in Salisbury; local openers include 9daytrip, Tsunami Wave Riders and the Lauren Light Trio.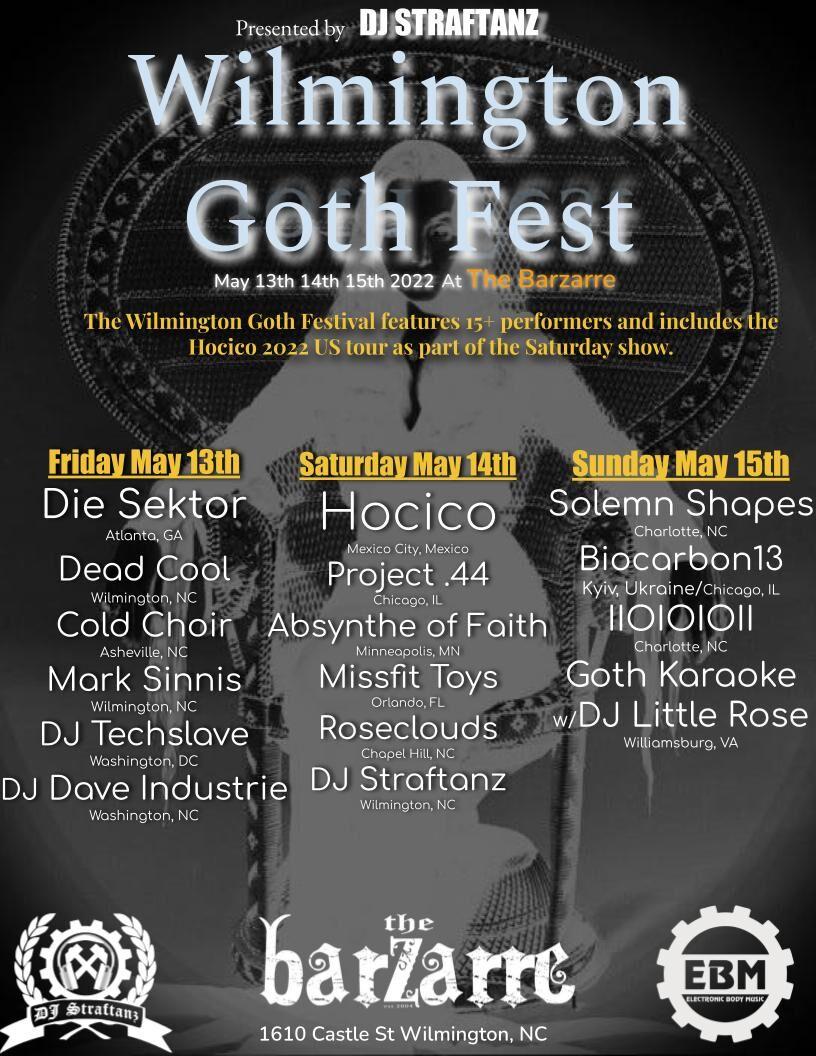 Getting a little darker, the Wilmington Goth Fest wraps around Barzarre from May 13-15. Hosted by DJ Straftanz, synths and eyeliners abound for the three-day lineup of international artists, including Mexico's Hocico among NC black hearts like Dead Cool, Cold Choir and Solemn Shapes.
Metalheard and horror fans reign from late May through June, with the Carolina Fearfest horror convention taking place May 27-29 at NC State Fairgrounds and KrakenFestNC raging with Zipper, Tommy Stewart's Dyerwulf, Grave Next Door, Goat Choker, Chaosmic, Noctomb, Holy Roller, Book of Wyrms, Dunmharu and Swineherd at Kraken in Chapel Hill on May 28.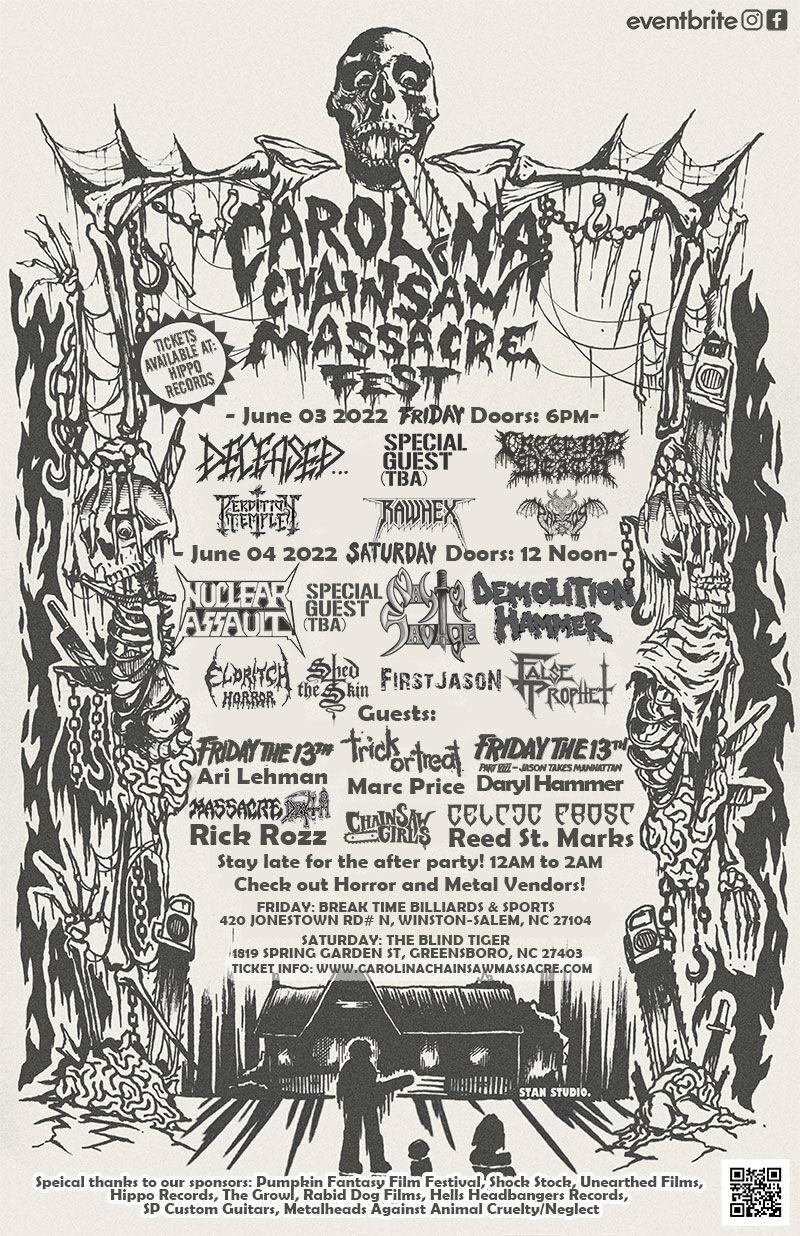 The Carolina Chainsaw Massacre tears the triad apart the first weekend in June. Hosted by John and Yoyo McEntee, the festival kicks off with a metal show featuring Deceased, Creeping Death, Perdition Temple, Raw Hex and Paezor on June 3 (at Break Time Billiards & Sports in Winston-Salem) before rolling into an all-day affair, featuring metal bands and horror icons, at Blind Tiger in Greensboro on June 4. Nuclear Assault, Demolition Hammer. Nasty Savage, First Jason, False Prophet, Shed the Skin and Eldritch Horror rock the stage. Special guest meet-and-greets include: guitarist Rick Rozz (Death and Massacre) and drummer Reed St Marks (Celtic Frost) plus actors Marc Price ("Trick or Treat") and Ari Lehman (Jason Voorhees from the first "Friday 13").
June flourishes in a community experience as the Dunleath neighborhood welcomes musicians and visitors for the annual Dunleath Porchfest on June 11th. On June 16, the SiStars of Juneteenth launch celebrations at Van Dyke Performance Space; and the Uptown FRESH Sneakerball rocks the Khalif Event Center on June 17, with a black tie outfit to match new kicks and a crowning of awards for "Best Dressed Couple", "Sneakerball King", "Sneakerball Queen" and "Best Custom Basket.
Put on your dancing shoes and prepare a bag. Your predictions for the Spring Festival have arrived. Goodbye !