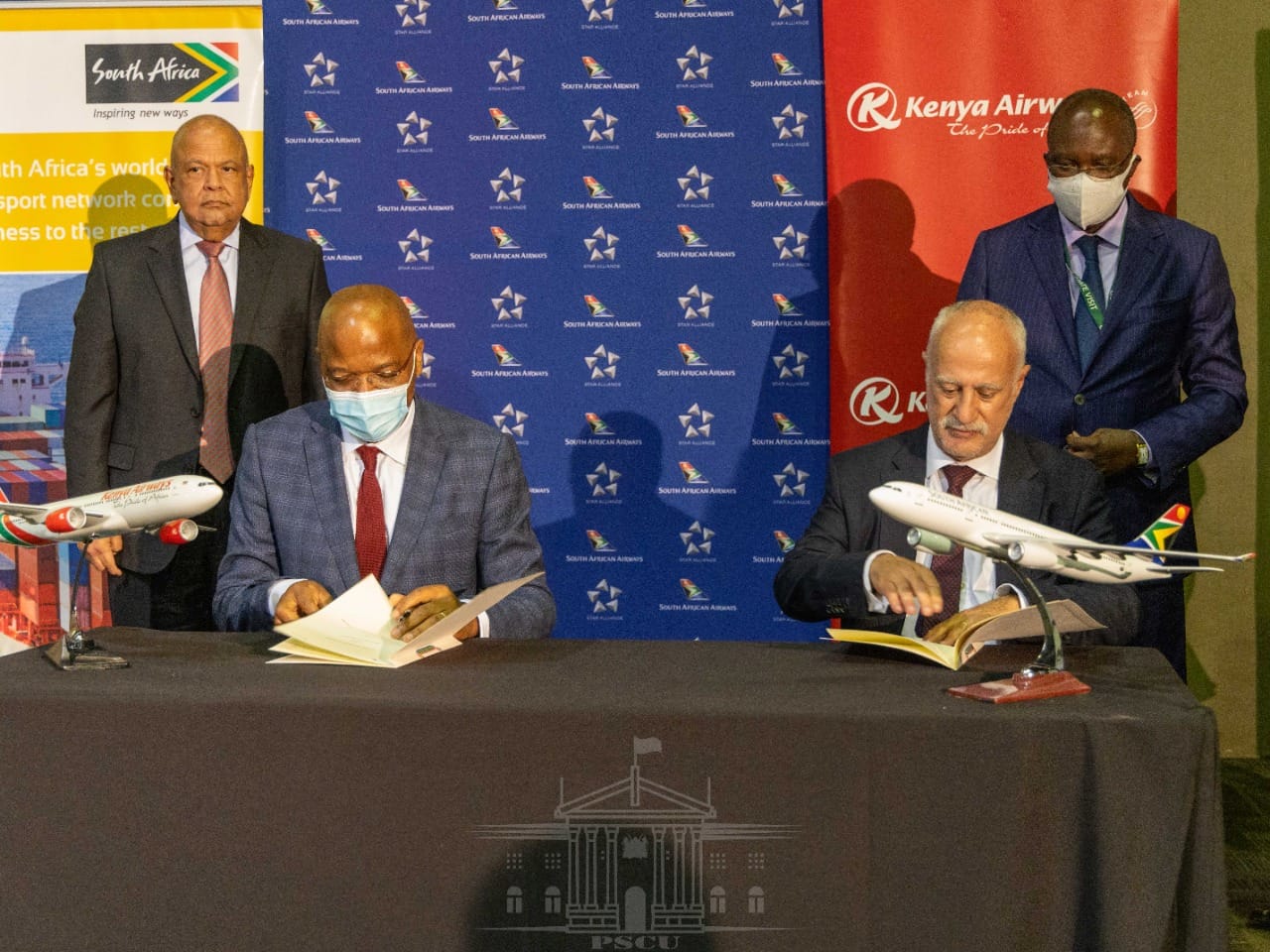 The future of aviation in Africa is consolidation » AirInsight
Changes towards new market policies, airline behavior, operating models and governance clearly point to a consolidated African aviation sector. Accelerated by the pandemic, what were once loose talks around forming mutual pan-African air links are now taking shape.
While the conversation centered around creating an African airline or airline group has been going on for some time, it is only now that action is being taken and new partnerships are leading the way. The Yamoussoukro Decision, a document dating from November 1999, set in motion the liberalization of African air services, which operated within the framework of multilateral agreements established on a country-by-country basis.
Limitation
This limited the free movement of commercial goods and air services across the continent. The implementation of policies such as the Single African Air Transport Market (SAATM) and the African Continental Free Trade Area (AfCFTA) picks up where earlier efforts left off. This liberalization has eased restrictions on airspace, reduced fares and bureaucracy, and potentially led to an increase in passenger numbers.
This was highlighted on Thursday as Kenya Airways Chief Executive Allan Kilavuka revealed that the African The airline industry needs a period of consolidation if the continent is to overcome its connectivity issues. Speaking at the CAPA Aviation Leader Summit in Manchester, England, Kilavuka said the fragmented nature of the sector was due to protectionist measures, pointing out that it was stifling economic growth in the region.
Kenya deepens ties with South African Airways
Kenya Airways is currently deepening its ties with South African Airways (SAA), while looking to add a new partner in West Africa. The partnership between the East African carrier and its Southern African counterpart aims to leverage their respective hubs in Nairobi and Johannesburg. The airlines are also hoping to strike a deal with a West African carrier to create a three-hub strategy, allowing them to offer a more comprehensive route network.
"The continent is highly fragmented from an airline perspective"said Kilavuka."We have so many airlines and I personally think we need consolidation. So that's what we're working on. We have entered into discussions with all major airlines in Africa, especially our neighbors."
Kenya Airways and SAA announced their planned partnership in September 2021 and finalized the deal in November 2021.

"The idea is to see how you can use the assets of each airline to increase productivity and have a two or three hub strategy that will encourage this great continent to connect with each other."said Kilavuka."This will increase options for our customers and reduce operating costs." He added that the "the future of aviation in Africa lies in consolidatingsaying that better connectivity across the continent would act as a catalyst for economic growth.
Airline chiefs back partnership
Today, industry and airline leaders agree that airline partnerships and mutual cooperation are prerequisites for emerging from the pandemic crisis with a stronger and better connected African market that competes internationally.
The African sector has responded with increased urgency to increase infrastructure and staff training. This includes expanding the continent's regional connectivity by adapting and upgrading its fleets to allow passengers wider access to more destinations through regional airports. The projected rate of population growth on the continent is a key element of this focus on regional operations.

Over the past 30 years, Africa's population has doubled, reaching 1.3 billion in 2018 from 550 million in 1985. By 2050, the population is expected to double again thanks to a growing middle class and projections of 26 African countries doubling their current populations. Improved regulations are expected to allow for more efficient air services for the continent's short- and medium-haul fleets, which include regional aircraft types.
Regional partnerships take shape
At IATA's 51st Annual General Meeting, held in Boston at the end of October 2021, airline leaders put forward the idea of ​​combining resources and capabilities as a solution to combat industry fragmentation, regulatory stagnation and excessive fuel costs. Along with fragmented airspace, other fuel cost stirrers on the continent include minimal production of aviation fuel on the continent and inadequate road network and infrastructure.
This poses a challenge to the efficiency of fuel deliveries, which are operated by trucks using regional road networks. Price competition on the mainland is also a concern of the airline group to unionize the sector. However, industry executives suggest the benefits far outweigh the risks.
South African Airways Chief Executive Thomas Kgokolo believes airline subsidies could have more benefits than capital injections as the industry tackles poor connectivity on the continent. "The pooling of resources could therefore help to energize the market, but of course, we must pay attention to the boundaries of competition.said Kgokolo during a panel discussion at the AGM. In the industry, the focus is on reforming the approaches of African carriers to drive market recovery and move away from working in isolated bubbles.
Synergy with international players
The sectoral dynamics in Central Africa are interesting to explore. While we have seen a number of collaborations between South African and Central African airlines, some African carriers are partnering with international players. The realization of partnerships between African and international airlines is also gaining momentum as the sector consolidates.
These African carriers are ready to access expertise, resources and understand how to better position their business by leveraging the global networks and traffic of international players. In return, African carriers can offer greater connectivity options to global airlines looking to expand their operations on the continent. The partnership between RwandAir and Qatar Airways is an excellent example of a mutually beneficial alliance between an African and international airline. Over the past two years, Qatar Airways has been focused on an expansion plan that involves expanding its footprint on the African continent. In December 2019, Middle Eastern Airlines secured a 60% stake in Bugesera International Airport, a new airport under construction in Kigali, the capital of Rwanda. In February 2020, Qatar also confirmed its partnership with Kigali-based RwandAir after acquiring a 49% stake in the airline. Together, the airlines have a network that covers more than 160 destinations, which are served through their main hubs in Doha and Kigali. After signing a codeshare agreement in October 2021, passengers from both airlines can connect to more than 65 destinations across Africa and around the world.
Please follow and like us:
Wole Shadare
A globally recognized award-winning aviation journalist, Wole Shadare has been decorated as one of Nigeria's Top 100 Aviation Leaders.