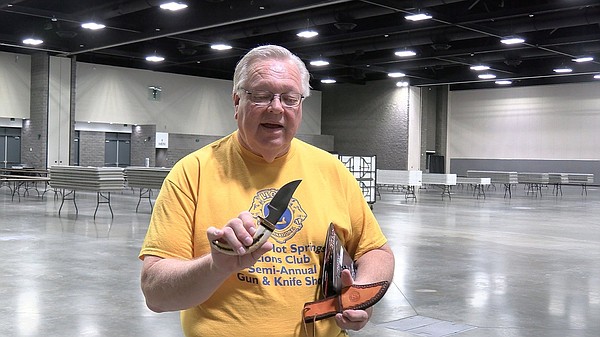 The Lions Weapons and Knives Show Returns
The South Hot Springs Lions Club's semi-annual gun and knife show returns to the Hot Springs Convention Center Saturday and Sunday after last year's "record crowd" with an attendance of about 3,000.
Every January and July since 1985, the Lions Club has hosted the show, raising money for numerous organizations and helping those in need of eye care. Last year's turnout was the largest crowd Steve Yach, who has served as event chairman for the past eight shows, says he has seen.
"When people bring guns here, we ask them to unload the gun and we put a zip tie across the chamber so the gun can't be fired," Yach said. "So from a security perspective, we don't have to worry about anything going on with them."
With around 105 vendors, 95% of tables will be gun or knife related, while 5% are for unrelated items, such as jewelry, he said.
Video not playing? Click here https://www.youtube.com/embed/4_rP8hxVXOg
There will be antique and modern firearms of all kinds, knives, swords and accessories for sale, as well as a raffle every two hours. A custom-made knife, valued at approximately $400, will serve as the grand prize for the raffle.
All proceeds from the event will go to charity as well as providing those in need with eye exams, glasses and helping those with eye injuries. Donations of glasses will be accepted at the event for recycling, according to a press release from the South Hot Springs Lions Club.
All of the raffle prizes, with a combined value of about $3,000, were donated by various businesses in the community, Yach said.
"I would say that we give out a lot more prizes than we raise money for raffles," he said. "But, we don't pay anything for raffle prizes."
Last year, the club raised between $30,000 and $40,000 from the show, Yach said.
This year, the money raised will go to 19 separate organizations, including World Services for the Blind, Arkansas Lions Eye Bank and Lab, Mid-South Lions Sight and Hearing, Lions Club International Foundation, Arkansas Sheriffs' Youth Ranches, The Caring Place, Habitat for Humanity, Jackson House, Potter's Clay, Samaritan Ministries, The Salvation Army, Ouachita Children's Center, Project HOPE Food Bank, Jones Eye Institute, Garland County Historical Society, Cooperative Christian Ministries and Clinic, Gift to Gift, Fellowship of Christian Athletes and Divers Only Foundation.
A news release also listed Boys and Girls State, Boys & Girls Club, Hospice Foundation, Cobra EAST and three National Park College nursing scholarships as recipients.
"What's kind of cool about our show is that all kids 12 and under, we give them a ticket to a free chicken meal at Chicken Express," Yach said. "So we're probably giving out 100."
Although most vendors and show attendees are from Arkansas, 12 other states have decided to participate this year, including bordering states as well as Indiana, Colorado, Florida and Wisconsin, a-t -he declares.
Returning vendors this year will include Claude Lambert, who made the grand prize knife for the raffle, and Osprey Global Scopes, a maker of hunting accessories and weapons.
Yach said the show will not require masks or other COVID-19 safety precautions. Masks will be optional for participants.
Raffle tickets will be sold for $2 per ticket or $20 for 11 tickets. The lounge will be open from 9 a.m. to 5 p.m. on Saturday and from 9 a.m. to 4 p.m. on Sunday. Admission is $10 for both days. Children 11 and under are admitted free.