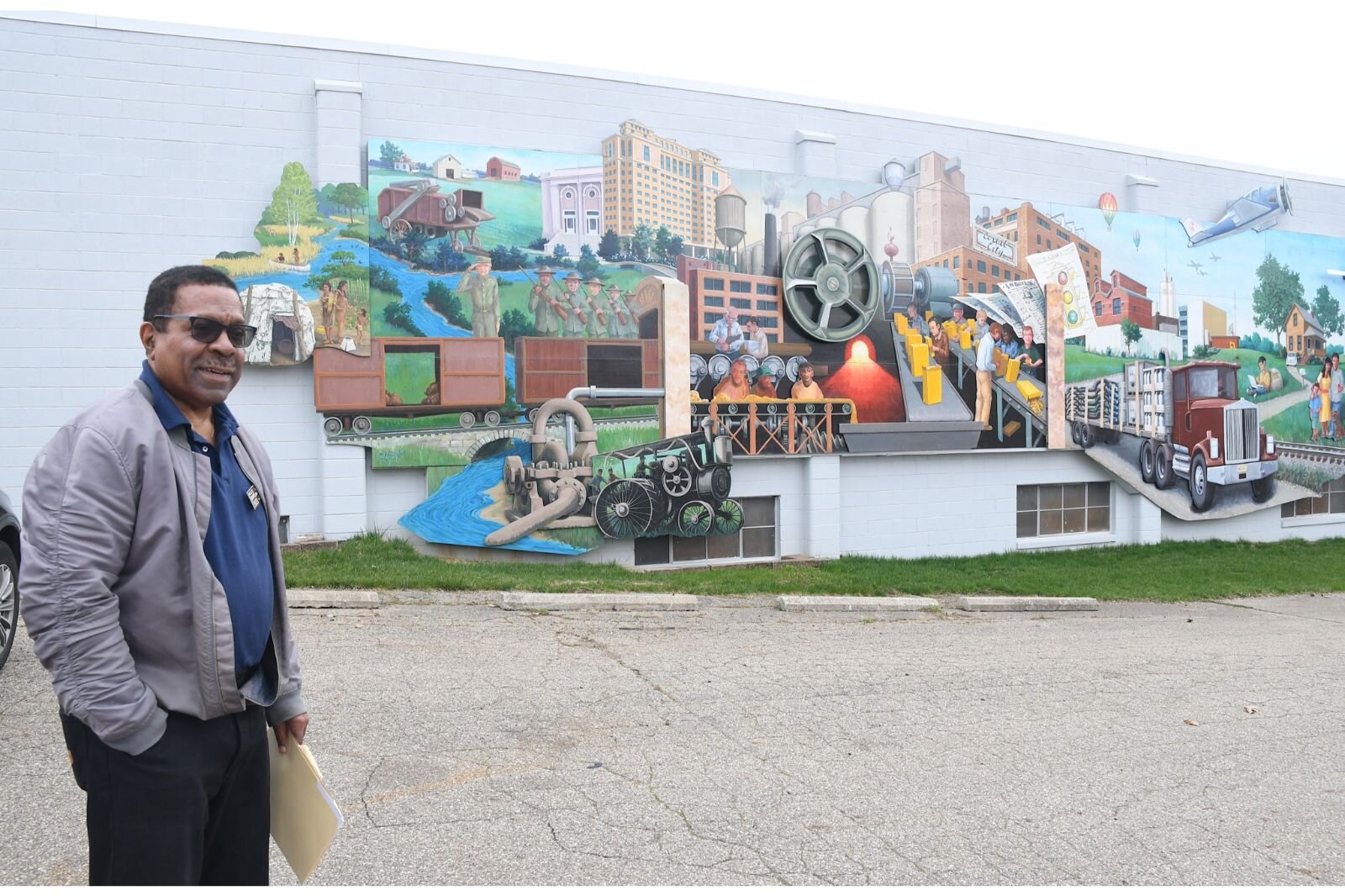 What happens when three Guardians of Battle Creek history form a partnership together? Museum
Editor's Note: This story is part of Southwest Michigan Second Wave's On the Ground Battle Creek series.
Historically speaking, that's exactly what the leaders of the Battle Creek Regional History Museum, the Town Historical Society and the Kingman Museum are doing through a new partnership called Museumish.
Since the fall of 2021, representatives from these organizations have been meeting monthly to discuss and identify opportunities to work together to present the story of Battle Creek in a deeper and more comprehensive way, said Michele Reid, director of the library at Kellogg Community College and Chair of the Kingman Museum Board of Trustees and Chair of the Museumish Board of Trustees.
"We're trying to demonstrate sustainability within the Battle Creek community for these three organizations working together," Reid says. "It is possible that the three organizations will merge, but we are still exploring this. Through consortium and partnership agreements, we can move in a different direction and seek the best way to pursue our individual missions while working together.
Reid says, "It would be wonderful to have a historical and artistic complex downtown. It's something we could explore so we can be together in one place.
The Battle Creek Regional History Museum is located at 307 West Jackson Street.The concept of Museumish was developed by the Battle Creek Community Foundation. He has awarded grants several times to each of the three organizations, says Douglas Sturdivant, chairman of the board of directors of the regional history museum and retired from General Motors.
"We came together to do a pilot program for a year to see how we can work together in the community as one, rather than working separately," says Sturdivant. "Generally, every organization needs some community support. If we work together, it's easier for us to get monetary gifts rather than working separately and each looking for the same dollars.
Besides the potential financial benefits, there are the most visible results of the Museumish initiative which would include increased promotion of the history of Battle Creek and Calhoun County, says Battle Board Member Michael McCullough. Creek Historical Society.
"We are looking for areas where we can demonstrate our collective ability to really elevate the story of Battle Creek and its history and the many artifacts that we have documenting our history. It's about how to put our assets together," McCullough says. "We take these small, struggling entities and combine our strengths in a way that makes us stronger."
He says custodians of historical treasures and artifacts in the Battle Creek community need to create fun and interesting ways to "bring attention and resources to what we have here."
The Kingman Museum already does this out of necessity. In December 2020, the museum's collection, which numbers in the thousands, was initially moved to an undisclosed location in Battle Creek after Kingman Museum board members realized they could no longer pay costs associated with the maintenance and renovations of the building housing the artifacts. This building, owned by the City of Battle Creek and located in Leila Arboretum, has housed the museum since 1934.
The Battle Creek Regional History Museum has several items on loan from the Sojourner Truth Institute.The necessary repairs would have cost "a substantial sum" to the museum. Prior to its temporary closure in March 2020 due to COVID-19, the museum had an annual operating budget of $300,000, museum executive director Eltine DeYoung said in February 2021.
The Kingman Museum collection has since been moved to the Regional History Museum at 307 West Jackson Street where it is in storage. Reid says Kingman board members are discussing the possibility of moving the museum's collection to an existing building or a new building where exhibits and programming similar to those offered in their old building could resume.
Eltine DeYoung, executive director of the Kingman Museum, describes the collection as "steeped in natural history, science and world cultures".
Recognizing the importance of continuing to exhibit parts of their collection, the museum's two part-timers led by DeYoung have created and continue to create contextual exhibitions showcasing part of the collection at local venues including The Milton and the Battle Creek Art Center. .
As Kingman management works with BCCF to determine where the museum should fit into the community, Reid says, "We are looking closely at where we should be and what services we should provide. We try out our collections and make sure people understand what collections we have while looking for educational opportunities and we will continue to be present at major events like Fall Into the Arts.
Part of the US Presidents Wives Doll Collection at the Battle Creek Regional History Museum.The museum's summer educational program designed to serve area students will take place at the KCC, which also features a planned exhibition of parts of the collection related to math and science.
"We continue to engage with students, children and families and that has always been one of our strengths because the collection has always been an educational collection," says Reid.
In addition, there will be an exhibit at the end of the summer on the Milton's mezzanine focusing on the history of Battle Creek.
Create better space and collaboration
As discussions continue on a different space for the Kingman collection and funding sources to achieve this are identified, the Regional History Museum is undergoing a major three-phase renovation of the building it purchased in 2015.
The museum currently uses approximately 3,000 square feet of the building's total space — 49,000 square feet — to display its artifact collection which includes a statue of a Native American that was removed from Irving Park, a stained glass which was removed from City Hall. depicting a white man punching a Native American and memorabilia featuring music legends such as Del Shannon, Junior Walker and Bobby Holley, each from Battle Creek.
Corridor leading to the Battle Creek Regional History Museum lecture hall."Battle Creek is so full of history. There's so much we can share," Sturdivant says. "We get a lot of people who come in and say, 'I didn't know you were here.'"
Sturdivant says his organization has already spent about $400,000 installing a new fire suppression system, new toilets and a new community/education hall. He says the funding came from BCCF grants, anonymous donors and an endowment.
These upgrades will allow the museum to expand its current exhibit space to approximately 16,000 square feet. It will provide opportunities to show more of the collection at the same time while providing a new home for the Historical Society and its collection.
The Historical Society is currently located in the basement of the Fieldstone building owned by Bronson Healthcare. A 39-bed adult psychiatric unit was located on the upper floor of the building. Bronson has a new location to serve adult psychiatric patients and will use the entire Fieldstone Building for other purposes that require the Historical Society's collection to be moved.
Doug Sturdivant, Chairman of the Board of Trustees of the Battle Creek Regional History Museum, examines framed posters.The Historical Society's collection includes historical books, maps, newspaper articles and stories that detail the lives of important local figures such as cereal giants WK Kellogg and CW Post and his wife, Leila, in addition to monuments important landmarks such as the Battle Creek Sanitarium. and the Seventh-day Adventist Village.
Sturdivant says the collection is an important addition to what the Regional History Museum will be able to offer the general public. They will also find this vast amount of local history displayed in innovative ways.
"We offer different displays and designs and what you see here will be a little different from what you see in a typical museum," Sturdivant says. "We want to develop a kind of 'wow' exhibits and more practical and informative activities. We recognize that we will need to continue to modify our exhibits and displays to keep people coming back. »
Ultimately, it's really about satisfying the needs and wants of current and future visitors to the museum, Reid says.
"Members of Museumish are looking for ways to move forward together as a collective," she says. "We want the opinion of the public.
Amid this ongoing process, McCullough says it's critical to let residents and those outside of Battle Creek know what's already here.
"We're just sitting on such a treasure trove of artifacts and history and much of it is just invisible to the public and when we get the chance to showcase it, it will really resonate with people."