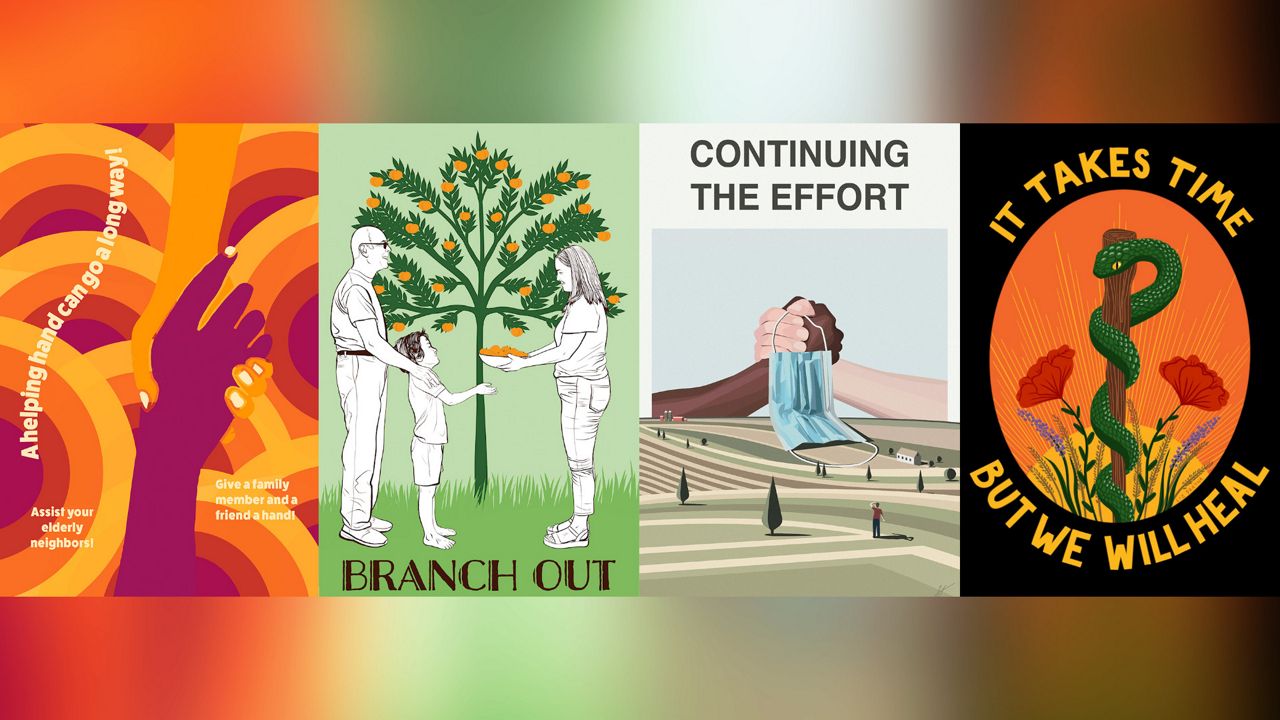 Wisconsin Historical Society Releases COVID-19 Posters
MADISON, Wisconsin – Almost two years after COVID-19 began to disrupt our world, we are still not back to normal.
But sooner or later this pandemic, like any other historic event, will be in the rearview mirror, said Dave Desimone, director of Black Point Estate and Gardens for the Wisconsin Historical Society. And what we create now will make a big difference to what we see in hindsight, he said.
"Our job is to record the good, the bad, and the ugly of every moment that we live in," Desimone said, "so that historians who follow us can kind of try to make sense of it all."
The Wisconsin Historical Society is working to help set this record for future generations – while also delivering messages to those of us currently living with the pandemic.
The group COVID-19 poster project brought together artists from across the state to create public information posters about the pandemic. The latest wave of posters, featuring work by 10 adult artists and four students, tackle topics such as immunization, masks and community support.
They are meant to capture the spirit of posters from other historical eras, said Desimone, who coordinated the project – like World War I art pushing people to to plant "victory gardens" Where join the Red Cross.
"We're very visual, obviously, in the 21st century. Shared memes, and TikTok and Instagram, "Desimone said. "But the poster has been a very effective means of influencing and shaping public opinion and thought since the 1860s."
The Historical Society has published its first phase of COVID-19 posters during the first months of the pandemic, in the spring and summer of 2020. This work was real-time reactions to new concerns, such as getting supplies to healthcare workers and groceries for elderly neighbors, said Désimone.
For the second phase of the project, released this fall, the team wanted to focus more on recovery, he said – "how we get through this pandemic and try to get back to the new normal."
One of the new posters, created by artist and Medical College of Wisconsin student Grant Yun, emphasizes the importance of "Continue the effortEven at this late stage of the pandemic.
"Just because we've been through a year doesn't mean the pandemic is over. And it might even get worse if we don't continue to take these precautions, "Yun said. "When people see my poster, I just want to remind them that it's really a group effort. "
Yun, whose mother is an art teacher, said he grew up with art "like second nature." But he has also long been drawn to science and the idea of ​​helping people as a doctor. This project, he said, was a way to bring these two passions together.
His poster features larger-than-life hands draping a huge blue mask over a classic Midwestern landscape. Yun, who grew up in California, said he was truly inspired by rural Wisconsin's landscape when he moved to the state, and has a the whole series capture Midwestern landscapes in a minimalist style.
He also wanted to present the blue disposable mask, which he said has become "a staple of everyday life" and a recognizable symbol of our present moment.
"It's so iconic of a certain period in history," Yun said.
Other posters in the series refer to different historical styles – such as a Victorian style advertisement for vaccination ("Done in the blink of an eye!") or a bold typographic message to "Trust in science".
By including students in the second phase, Desimone said the Historical Society also wanted to see the pandemic "through the eyes of people who experience it during their very formative years."
Kerrianna Rought, a recent Capital High School graduate whose work was featured in the project, said she was excited to share the art with a call to action.
"I like, as an artist, to express my thoughts," she said. "If I don't know how to put it into words, I like to visualize it, because I feel like showing is much more effective than saying."
Rough's interest in art grew out of a love for video games, cartoons, and cartoons, a style that shines through in his poster. And she said she wanted to feature a black character in her submission because, as a black person herself, she wanted to see more people of color portrayed.
She hopes her poster – which asks the question, "I'm vaccinated." Are you? "- can remind people that their decisions during the pandemic also affect the health of those around them.
"I hope this gets people to start making a better place," Rought said. "And help people rethink some of their mindsets that they might have, especially about vaccinations."
Martha Laing, a senior at Cambridge High School, also focused on the COVID-19 shots for his poster – a colorful scene inspired by rapper Tyler, the creator.
Although it's mostly a hobby right now, Laing said she would like to do art professionally in the future. She spent a lot of time creating art while stranded at home during COVID-19, even painting a giant mushroom mural on her wall.
"Before the pandemic hit, I was definitely like an active person – I had to do something after school all the time, I had to go out with friends," Laing said. "With the pandemic, I was forced to stay on my own and learn more about myself. And I think I really grew as a person throughout that.
The poster – which she finished in a panera bread, en route to a camping trip – shares the message that with the vaccine, "the life you save can be yours."
Laing said she worked in the restaurant business and was able to get the vaccine very early on. Even though she was worried about feeling sick and had to travel all the way to Milwaukee from her home in Lake Mills to get a date, she walked away from her first dose feeling excited.
"Even the first time around, I knew it wasn't over, but I was really happy to have part of a vaccine in me," Laing said. "And I feel like I'm taking steps to be fully immunized and to be more comfortable going out in public."
Although the pandemic has become an "extremely polarizing thing" in the United States, Desimone said he hoped the poster project could spark dialogue and help people find common ground.
And the artists have already made history: in addition to being available for purchase, COVID-19 posters are also entering the permanent collection of the Historical Society, he added. A century later, they can help people understand the history we are living today.
"I hope we serve well the historians who follow us long after us," Desimone said, "and there aren't many gaps in the story."
Discover all the posters of the two phases of the project on the Wisconsin Historical Society website.