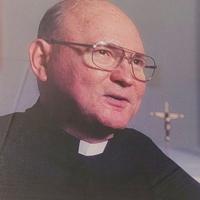 Yoakum Heritage Museum will host a double book signing | Counties
The Yoakum Heritage Museum will host a double book signing from 2-4 p.m. Sunday for authors of books about Reverend Charles W. Kram Jr.
"Gladly Will I Glory in…My Infirmities," written by Anthony Warzecha, is a joyous journey through Kram's life despite tremendous suffering. "Broken and Blessed," written by Carol Voelkel, is a huge collection of testimonials about Kram's character as well as several of his homilies, according to a museum press release.
"Broken and Blessed" could be the panacea and the guide to our daily life. Per Kram "We are all broken…but with faith, hope and love, we can be blessed", according to the new version
The two authors, who will be available for questions, can personally profess Kram's personal counsel, testifying to 23 years of faithful service as a chaplain riveted by his touching experiences, inspirations, faith, prayer and patience.
From an early age, Kram wanted to become a Catholic priest. At the age of 22, with one year left in the seminary, he was struck down by bulbospinal poliomyelitis. On that summer day in 1952, he went from a healthy young man to a quadriplegic in a wheelchair. He remained that way for the rest of his life. Kram became a permanent resident of Huth Hospital and served as chaplain at Yoakum Community Hospital from February 1977 to August 2000.
Kram never complained about his suffering or the humiliation of his addiction. Kram elevated suffering to the dignity of the divine, Warzecha said in the press release.
Although he shared a quiet and isolated life, he shared his ministry in over 160 countries around the world, including Vatican City. Although his wheelchair was his Quirk, his ham radio microphone helped broadcast his homilies to the world via his radio station, W5TFZ. Even handicapped, Kram had strength beyond imagining for his study of Scripture. He visited every patient in the hospital daily.
A five-person committee took on the challenge of gathering and preserving Kram's life. The committee included President Deacon Joe Machacek who is the business manager of Sts. Cyril and Methodius Church in Shiner; John Butscheck, a close friend of Kram; Hazel Pfeil, a retired nurse who cared for Kram from 1977 to 2000 and childhood friend Karen Roznovsky and her sister Janet Pohl, both childhood friends and hospital employees, had intimate knowledge of his life. They also enlisted Warzecha's help in writing the book. Along with Warzecha's wife, Dawn Warzecha, all collectively acted as local editors to help compile this invaluable contribution.
Currently, Yoakum Heritage Museum is exhibited in tandem with Yoakum Community Hospital…100 Years of Yoakum Health Care. Dozens of citizens and local doctors lent their personal items to this vast exhibition. The Museum of Pharmacy and Medicine of Cuero has lent many rare and historical objects that certainly help to convey the correct atmosphere of the exhibition. Rebecca Borchers is responsible for gathering information on the Kram's many nuns and caregivers. The exhibit contains heartbreaking stories from so many anonymous contributors who are responsible for Yoakum Community Hospital today. The exhibit ends on Labor Day.
In addition to the authors, three of the committee members, Machacek, Roznovsky and Pohl, will also be present at the public signing of the book.
The museum is at 312 Simpson St.